Southwest Airlines has signed agreements to sell and lease back 20 Boeing 737s in a transaction expected to generate $815 million in proceeds for Southwest.
The Dallas-based carrier discloses the sale-leaseback transaction in an 8 May securities filing.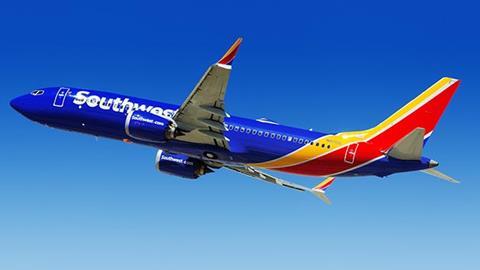 The 20 aircraft covered by the deal include 10 737-800s and 10 737 Max 8s, and Southwest will use the funds for "general corporate purposes", the filing says.
It does not name the lessor or specify other details, and Southwest did not respond immediately to requests for additional information.
Sale-leaseback deals can help airlines shore up reserves with large cash influxes. But monthly lease payments can increase carriers' operating expenses, notes Bank of America Merrill Lynch analyst Ron Epstein.
Lease rates currently stand at $265,000-$300,000 monthly for 737 Max 8s and $150,000-$320,000 monthly for 737-800s, depending on when the aircraft was manufactured, according to Cirium's most-recent market commentaries.
Southwest has 741 737s in service or storage, according to Cirium fleets data.