Despite the economic and logistical challenges of Covid-19, 2020 was a busy year for Tecnam, the Campania-based light aircraft manufacturer and the first new entrant in the commercial air transport market in a generation with the nine-passenger P2012 Traveller, assembled at its site near Naples.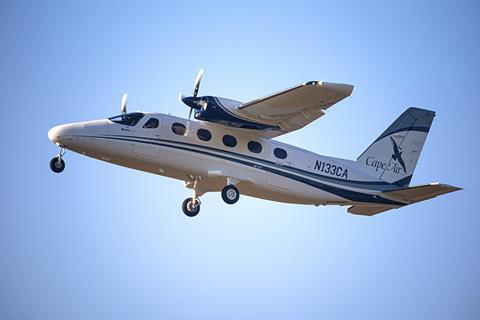 After putting its first P2012 into revenue service just before the pandemic took hold on 22 February, launch customer Massachusetts-based Cape Air had taken delivery of 16 of the Lycoming TEO-540-C1A-powered twin-piston type by November, with three more set to arrive before the end of the year. The airline has a total firm order for 23, and options for another 90.
Cape Air says the P2012, which replaces some of the carrier's legacy Cessna 402 fleet, has been "well received by our passengers and the communities it serves". The P2012s delivered so far are flying in New England, where the Cape Cod-headquartered firm serves a range of airports, including Boston, but the regional carrier also has operations in Montana and the Caribbean.
Additionally, in October, Tecnam announced a partnership with Rolls-Royce to develop an electric-powered version of its largest aircraft, called the P-Volt. The two companies have already paired on a project called H3PS to design an electric version of Tecnam's four-seat P2010, pairing a R-R electric motor with a Rotax combustion engine.
That is not the only new variant of the P2012 unveiled in 2020. A month earlier, Tecnam rolled out its Sentinel SMP, a special mission variant of the platform on which it has worked with L3Harris, capable of accommodating five mission specialists along with one or two pilots, as well as a turret-mounted camera and synthetic aperture radar.
Tecnam says a fully-equipped Sentinel SMP with six crew members on board will, at a maximum take-off weight of 3,680kg (8,110lb), provide up to nine hours' flight time, at "a fraction of the acquisition and operating costs" of other types performing a similar role. The company says it "foresees an increasing demand" from the special mission market.
Also in October, Tecnam secured European Union Aviation Safety Agency certification for the latest iteration of its P2010 piston single, the diesel/Jet A1-powered P2010 TDI, five months after rolling out the variant at its Capua base. The 170hp (127kW) Continental CD-170-powered TDI joins existing avgas-powered 180hp and 215hp versions.
However, the P2012 remains its flagship. Tecnam believes the type, which has a list price of $2.6 million and range of 950nm (1,760km), has the potential to be a genuine disruptor in the small regional transport market, with its only rivals airframes designed 50 or more years ago, such as the Cessna 402 and the Britten-Norman Islander, hundreds of which remain in operation.