On 26 October 2011, an All Nippon Airways (ANA) Boeing 787-8 roared off a Tokyo Narita runway, marking the first passenger flight of a jet that changed so much about long-haul travel.
The 787 pushed technological boundaries. Airlines used the jet to launch hundreds of formerly uneconomical routes. With the 787, Boeing jumped headlong into composite manufacturing and transformed its supply chain. Passengers benefited from a reduced cabin-pressure altitude and larger windows.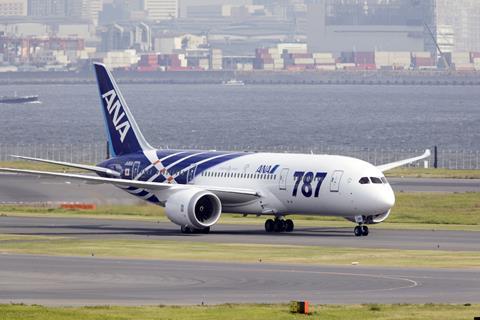 Yet Boeing's execution can be called anything but flawless. Countless troubles, many related to outsourcing an immense amount of 787 work, plagued the programme from its start to the present day.
Ten years in, the 787's legacy continues unfolding, defined to date by transformative accomplishments and notable setbacks. Boeing says the jet's merits will propel it well into the future. But production cuts, a delivery halt and slumping demand leave uncertain whether the programme will rebound to its pre-pandemic heyday.
"I think it is the plane of the future, because the first ten years is just the beginning," Boeing vice-president of commercial marketing Darren Hulst says of the 787. "Long-haul travel requires connectivity… What the 787 did was allow airlines to fly to more points via hubs."
The jet's sales success is undeniable. At the end of July, Chicago-based Boeing had logged 1,423 cumulative firm 787 orders, including more than 400 still-undelivered jets.
"From a product and technology standpoint, the 787 changed our industry and it took the customer experience to a whole new level," says Alex Krutz, managing director of aerospace advisory firm Patriot Industrial Partners. "There were many advancements, such as the composite technology, cabin noise reduction, improved cabin pressurisation and systems advancements, with the 787."
But the 787 also demonstrated the difficulty of keeping development of wholly new technologies on track, especially when relying more than ever on suppliers, he adds.
"Operating metrics are very strong, passenger comfort is excellent – but all this [is] clearly overshadowed by quality and execution issues," says Michel Merluzeau, aerospace analyst with consultancy AIR. "Ten years on, the 787 looks like it has fallen short of expectation."
Specifically, he says the jet has not delivered promised reduced maintenance costs, citing 787 structural issues.
PROGRAMME LAUNCH
In December 2003, after nixing its Sonic Cruiser project, Boeing's board approved the company to sell the "7E7 Dreamliner", which it would rename the 787.
The programme's official launch came in April 2004 with a 50-strong order from ANA. The project called for a 200- to 300-seat family of airliners designed to operate 3,500-8,500nm (6,480-15,700km) routes. The airframer aimed to achieve first flight in 2007 and first delivery and service entry in 2008.
At the time, Airbus was heading in the opposite direction, developing the much-larger A380; Boeing thought the market needed something smaller that would be profitable on a wider range of routes.
Powered by either GE Aviation GEnx or Rolls-Royce Trent 1000 turbofans, 787s would be different. Boeing gave the jet a composite fuselage composed of single-piece barrels, a design the airframer says is about 20% lighter than an aluminium fuselage and contributes to a 30% reduction in airframe maintenance costs. Thanks to the composite fuselage, the jet's cabin is pressurised to the equivalent to 6,000ft (not 8,000ft, as with older jets) – a difference Boeing says reduces headaches and fatigue.
Additionally, 787 systems are powered more by electricity and less by pneumatics, compared to previous jets, which improves efficiency because pneumatics rob engines of energy.
Notably, with the 787 Boeing revamped its design, engineering and production strategy by handing a significant portion of that work to a global cadre of suppliers.
"The 787 was very much an outsourced airplane, versus the 777," says Krutz. Joining the programme under "risk-revenue partnerships", suppliers took on development of entire systems, advancing technically in the process. "It really created large systems providers."
First flight did not happen in 2007 as hoped, nor in 2008. Boeing delayed the milestone amid issues including software problems, improperly installed fasteners, the need for wing-to-body reinforcements and a mechanics' strike.
On 15 December 2009, the first 787 – a -8 – lifted off the earth. Boeing hoped to push the programme through certification in eight and a half months, but it took about 20 months as hiccups continued – including an electrical fire and a Trent 1000 failure.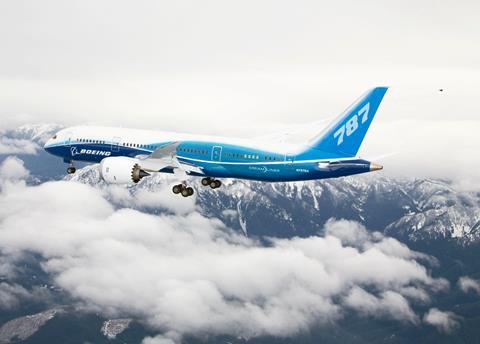 In August 2011, the US Federal Aviation Administration (FAA) certificated the 787-8, a 248-passenger variant (in two classes) with 7,305nm of range.
"It is clear that Boeing tried to do too much too soon," Merluzeau says, citing difficulties with integrating advanced systems. "Boeing also learned a hard lesson about relying extensively on suppliers that did not have the expertise [or] experience to lead integrated teams."
There were delivery delays after certification as Boeing had to incorporate design changes and retrofit already completed jets. That work proved substantial because the company had ramped up production ahead of certification being finished, Krutz notes.
The airframer delivered three 787s in 2011.
The "787's new technology and systems did take longer to qualify for a variety of reasons. There were many lessons learned," Krutz says.
The programme also made clear that aircraft with advanced technologies might require eight or nine years to develop and certify, not the seven-year baseline expected for previous conventional aircraft, Krutz adds.
On 25 September 2011, Boeing delivered the first 787, powered by Trent 1000s, to ANA. In 2012, the carrier reported its 787-8s burned 17% less fuel per seat on domestic hops and 21% less on long-haul flights than 767s – figures aligning with Boeing's promises.
RISING PRODUCTION
In 2012, Boeing delivered 46 787s, including the first produced at its new, second production site in North Charleston, South Carolina. Its prime 787 site was in Everett, Washington.
Problems persisted. Regulators grounded 787s for four months in early 2013 following two lithium-ion battery incidents.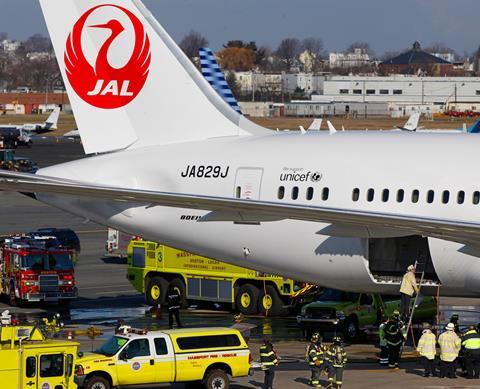 Deliveries jumped to 114 in 2014 and continued an upward swing, hitting 158 aircraft in 2019, when Boeing was ramping production to a programme high of 14 jets monthly. More quality concerns arose that year, including reports of foreign object debris in jets delivered from South Carolina.
Despite early hiccups, 787 deliveries surged through 2019
Year
Deliveries
2011
3
2012
46
2013
65
2014
114
2015
135
2016
137
2017
136
2018
145
2019
158
2020
53
2021*
14
Total deliveries*
1,006
Source: Boeing * through July 2021
Along the way, Boeing brought two other variants to market, delivering the first 787-9 (296 passengers, 7,530nm of range) in 2014, and the first 787-10 (336 passengers, 6,350nm range) in 2018.
Hulst says the 787's economics, capabilities and versatility allowed airlines to transform long-haul networks, adding some 300 new routes since the jet entered service. Suddenly, carriers could make money flying from major hubs to distant smaller cities – routes unprofitable with larger widebodies.
The jets likewise proved successful on long-established routes like between New York and London, he adds. Japan Airlines flew 787s domestically. Discounters built long-haul networks with 787s. The type's three variants ensure operators have a jet for a variety of jobs, says Hulst, noting that about 30 of the roughly 80 787 operators have ordered multiple versions.
"Versatility… was something that really changed networks forever. That's where the 787 made its mark in history," Hulst says. "You have hub and spoke, and you have airlines using it for ultra-long haul. And domestic."
The 787's boom years would not last. In January 2020 – immediately before the world awakened to the Covid-19 threat – Boeing cut 787 production from 14 to 10 jets monthly, citing the "near-term market outlook".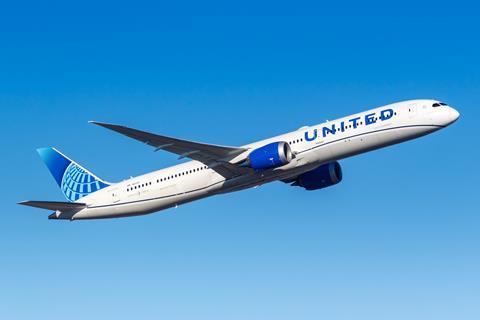 Then the pandemic descended, erasing demand for travel on the international routes for which Boeing designed 787s. Executives slashed output to six examples monthly, then to five. Boeing also set in motion a major manufacturing overhaul – it would stop making 787s in Everett and shift all production to the lower-cost South Carolina site, a consolidation completed this year.
More qualities issues followed.
In October 2020, 787 deliveries were halted because "skin flatness" on undelivered jets did not meet precise tolerances. Boeing has said the issue does not affect flight safety and that it is performing rework to ensure its products meet quality standards.
The airframer delivered just 53 787s in 2020.
Boeing resumed deliveries in March 2021, then halted them again in May after the FAA declined to approve a Boeing-proposed algorithm related to fuselage inspections. Regulations require manufacturers develop fixes before resuming deliveries, the FAA says.
Meanwhile, Boeing accumulated a stockpile of about 100 undelivered 787s, it has said.
In July came another issue. Boeing said gaps in forward-pressure bulkheads of undelivered 787s did not meet tolerances – a problem also not affecting flight safety. At the time, Boeing said it was reducing production to less than five jets monthly, but has not specified the new rate. The company has not said if delivered jets have similar structural issues.
"We have very stringent design standards," Hulst says of the issues. "This is us… making sure we are designing and building it to the specifications. We are looking forward to managing this process and getting back to deliveries."
In 2021 through July, Boeing delivered only 14 787s. It also logged 27 order cancellations, including 19 787-10s due to Singapore Airlines, which swapped some to 777-9 orders.
Hulst says the 787's economics have made it a relative winner amid the pandemic. Though airlines grounded swaths of jets, 90% of 787s remain "active and flying", a percentage figure greater than with other widebodies, he says, citing the 787's efficiency.
NEXT TEN YEARS
As of July, Boeing had delivered a cumulative 1,006 787s – 377 -8s, 568 -9s and 61 -10s. ANA has the most, with 77, followed by United Airlines with 63 and Japan Airlines with 49, Cirium fleets data shows. Other top operators include Air Canada, American Airlines, British Airways, Etihad Airways, Hainan Airlines and Qatar Airways.
Boeing still holds unfilled orders for 486 787s – 40 -8s, 320 -9s and 126 -10s. Of those, 421 are what Boeing considers "firm" orders, the balance being orders it suspects may not close due to reasons including the financial condition of the buyer.
As delivery delays continue, Boeing increasingly faces the risk of customers making penalty-free cancellations. That is because sales contracts typically include clauses allowing customers to walk away from orders when deliveries are more than one year late – provisions that spurred a raft of 737 Max cancellations.
In normal times, few airlines might actually exercise such cancellations. But now is not a normal time, and analysts suspect long-haul international travel will take several years to recover.
"As more and more aircraft hit that 12-month point, where the customer has the right to cancel, it's going to certainly increase pressure on Boeing to come up with solutions not to have 'white tails'," Air Lease executive chair Steven Udvar-Hazy said in August, referring to completed jets without buyers.
BofA financial analyst Ron Epstein has estimated that one-third of Boeing's undelivered 787s could be subject to delay-induced free cancellations. Analysts have suggested the recent issues could force Boeing to take a forward loss on 787 programme.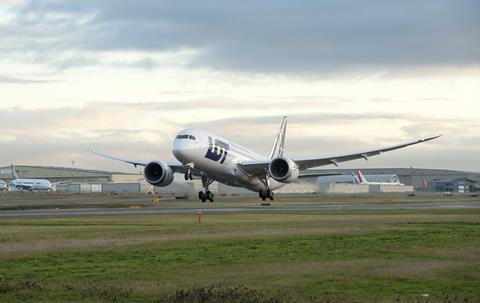 Still, optimism abounds. Boeing has offset some cancellations with recent sales, booking 14 new 787 orders in 2021 through July, including five jets ordered by Lufthansa. The airframer's market outlook predicts global demand for 7,480 new widebodies through 2039.
As recently as June, Boeing chief executive David Calhoun predicted the programme could return to producing 14 jets monthly – all at the single manufacturing site – once demand rebounds.
Analysts have their doubts. The Teal Group's Richard Aboulafia thinks 14 per month was too many even in 2019. Merluzeau suspects that only by developing new 787 variants – perhaps a derivative optimised for regional travel – can Boeing reasonably expect to return to the heady 2019 levels.
"Without those, there is little chance to witness a return to the unsustainable rates of the past. A regional variant might gain significant traction," he says.
Hulst dismisses that suggestion, insisting the existing 787 family will meet market needs.
"I don't think we are looking at other variants," he says. "The 787 is the most versatile widebody family in a market that is increasingly focused on versatility."
Rather, Boeing's focus will be, "How can we best provide what our customers need with the platform we have?" Hulst says. "I think there is continued ability to make these aircraft a leader in the segment."