Boeing is advancing its programme to deliver a new helicopter to patrol the USA's nuclear-armed intercontinental ballistic missile (ICBM) silos.
The airframer on 20 November said it has delivered the sixth and final test aircraft to the US Air Force (USAF) under the MH-139A Grey Wolf programme. The delivery took place in October, according to Boeing.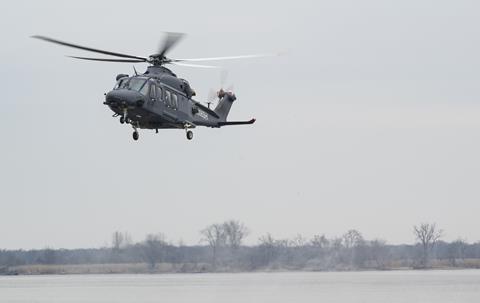 The milestone signals the conclusion of the Grey Wolf's research, development, test & evaluation (RDT&E) phase, with Boeing moving toward low-rate initial production (LRIP) of the helicopter.
"Delivering all of the RDT&E aircraft to the air force enables them to continue critical operational testing and allows Boeing to focus on building the first production aircraft," says Azeem Khan, Boeing's MH-139 programme director.
"This is an important step in getting the aircraft into service," he adds.
The Grey Wolf is intended to replace the USAF fleet of Bell UH-1Ns providing security at ICBM sites scattered throughout the continental interior of North America.
Delivery of the sixth test MH-139A signals that Boeing is on schedule with previously established goals for the Grey Wolf programme. Khan in March said the company expected to begin delivering production MH-139As in 2024.
Boeing received a $285 million contract in March 2023 to support production of 13 MH-139As under LRIP. The USAF ultimately plans to acquire 84 of the type.
The rotorcraft is a modified Leonardo Helicopters AW139 civil airframe. Leonardo produces the helicopter in Philadelphia, while Boeing, acting as prime contractor, is responsible for militarising the helicopter and delivering it to the USAF.
Boeing says the MH-139A will offer 50% greater speed and range compared to its predecessor, while also increasing gross weight by 2,270kg (5,000lb). In addition to ICBM site security, the Grey Wolf will also provide VIP transport services.
The helicopter is unique in that it is a military helicopter tasked with operating in domestic airspace, which required it to obtain US Federal Aviation Administration (FAA) type certification.
That proved to be a greater challenge than anticipated, as the FAA had no previous experience evaluating some of the aircraft's military flight systems, such as the identification friend-or-foe transponder.