The Sikorsky CH-53K King Stallion has demonstrated its first air-to-air refuelling.
The heavy lift helicopter, in development for the US Marine Corps (USMC), completed the 4.5h test over Chesapeake Bay with a Lockheed Martin KC-130J in-flight refuelling tanker on 6 April, says Naval Air Systems Command (NAVAIR) on 9 April.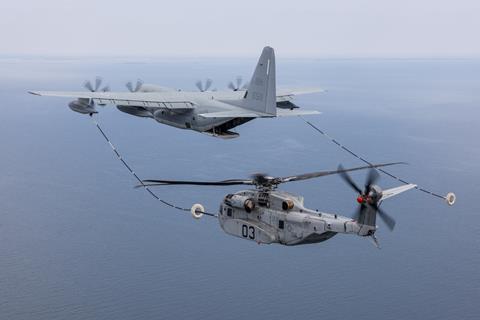 In particular, the CH-53K conducted a wake survey test to assess how the helicopter would behave in the "strong, turbulent air" behind the tanker.
The heavy lift helicopter successfully plugged into the KC-130J's drogue – the shuttlecock-shaped basket at the end of the trailing fuel line.
"These tests were performed at increasing closure rates to ensure the CH-53K can handle the forces on the refueling probe when contacting the drogue during aerial refueling," says NAVAIR.
Aerial refuelling would extend the nonstop flight range of the CH-53K. The helicopter has an unrefueled mission radius of 110nm (203 km) with a 12,247kg (27,000lb) load.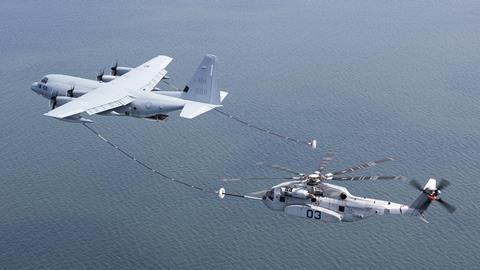 The CH-53K's 16,300kg maximum external lift capability is to be the greatest in the US military. The helicopter is designed to be able to carry two heavily armoured Humvees using its sling.
However, the CH-53K has been delayed several years by a number of technical problems including issues with its engines re-ingesting exhaust gas and main gearboxes that were not durable enough.
In March, the USMC said it planned to reduce its number of heavy lift helicopter squadrons. The new proposal implies that the service will buy about one-third fewer of the 200 examples of the CH-53K it originally planned, Mark Cancian, a retired US Marine and senior adviser with the Center for Strategic and International Studies International Security Program, told FlightGlobal at the time.
NAVAIR say it is aiming for initial operational test and evaluation of the CH-53K in 2021, and first fleet deployment in 2023 to 2024.