Singapore has taken delivery of its first Airbus Helicopters H225M, which will replace the Republic of Singapore Air Force's (RSAF's) AS332 Super Pumas.
In Singaporean service, the H225M will serve in missions such as search and rescue, aeromedical evacuation, and humanitarian assistance and disaster relief, says Airbus.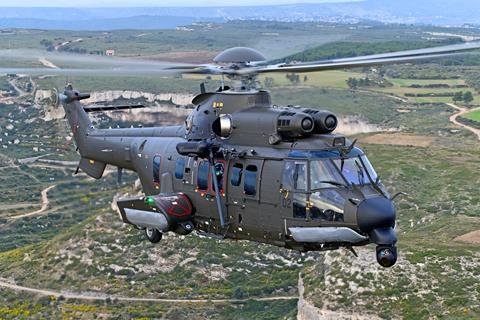 When Singapore announced the acquisition of the H225Ms, it also committed to the Boeing CH-47F Chinook as a replacement for its CH-47SDs.
"The RSAF has been a long-term partner of Airbus since its first Aerospatiale SA316B Alouette III entered into service more than 50 years ago," says Airbus Helicopters chief executive Bruno Even.
"We appreciate the trust Singapore has placed in our helicopters, and we look forward to the H225Ms playing a critical role in the RSAF for many years to come."
Singapore has not officially disclosed the numbers of rotorcraft ordered in 2016, but Cirium fleets data suggests it ordered 16 H225Ms and 10 CH-47Fs.
Cirium shows that the RSAF now operates 32 AS332s and 15 CH-47SDs. The average age of the AS332 fleet is 31.5 years; the average age of the CH-47SDs is 21.2 years.
"The H225M and CH-47F possess better lift and reach capabilities, and will enable the RSAF to meet the Singapore armed forces' lift requirements more efficiently with fewer helicopters and less manpower," said Singapore's defence ministry in the 2016 order announcement.
Airbus Helicopters adds that over 104 H225Ms are in service. Operators include Brazil, France, Indonesia, Kuwait, Malaysia, Mexico and Thailand.