Hill Helicopters is already working on early stage concepts for its next programme, the UK start-up's founder and chief executive has revealed.
Speaking during a monthly online update on 4 October, Dr Jason Hill said the company was particularly interested in two designs beyond its current HX50 and HC50 light-singles, both of which are still in development.
These would be a "twin-engined, more capable machine" and a "hybrid machine", he says.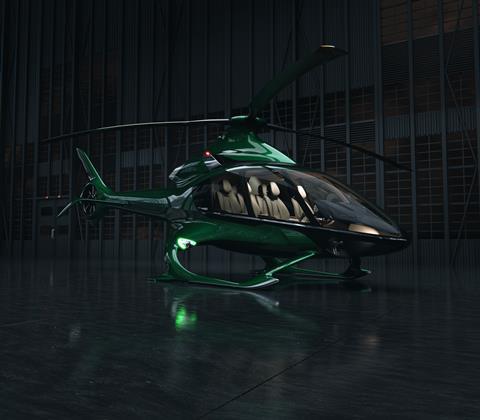 "We have got a bunch of early-stage technology development going on at the moment which will allow us to select which route is best for us," he says.
"I don't want to declare too much about it but you can expect bigger helicopters from us in the future," Dr Hill adds.
Delivery of the first HX50 – a non-certificated kit-built aircraft – is due in late 2024, followed by the fully certificated HC50 by the end of 2026; the company holds orders for 540 HX50s and 116 HC50s.
Hill Helicopters is developing the vast majority of the supply chain for the rotorcraft in house, including its 500shp (372kW) GT50 turboshaft engine.
Dr Hill says future developments may also include a "new and more efficient version or derivative" of the GT50.
Development work on the engine continues, as Hill Helicopters looks to finalise the design. Dr Hill says it has switched from a two- to a single-stage compressor turbine in order to optimise the secondary airflow through the engine and reduce the load on key bearings.
This will lead to a shorter engine that is higher performing and more reliable, he says. Bench tests of the redesigned powerplant are scheduled for 2023.
Hill Helicopters has also outlined some of the operations that will be undertaken by customers as part of the self-build process for the HX50. Regulations require buyers to assemble 51% of the helicopter, excluding the transmission, rotors, engine and avionics.
Although the complete process has yet to be fully defined, Dr Hill says, as an example, owners will be "likely involved" in the lay-up of carbonfibre panels for the fuselage, adding: "It is something that will be supported by our staff using our equipment."
That final assembly process will be performed at a new purpose-built facility in the UK. Hill Helicopters has applied for planning permission for a site located at Cresswell, near Stoke-on-Trent in the English Midlands.
Dr Hill says responses to that application have now closed; the decision will hinge on a second application, to be submitted imminently, related to the "flying aspects of the heliport that we are building".
Feedback from local residents has centred on the potential disturbance which would be caused by frequent helicopter movements and ground runs.
However, Dr Hill believes this issue can be mitigated. "The building takes every opportunity that modern technology affords to minimise the impact that our operations have on the local environment," he says, with certain operations moved indoors or within acoustic chambers.
"We are really going to be the friendliest neighbours that is at all possible," Dr Hill adds.