Israel's government has approved the acquisition of Sikorsky CH-53K heavy-lift helicopters for its air force.
According to local media, a government committee that oversees military procurements cleared the purchase of 10-15 examples of the new helicopter on 28 November.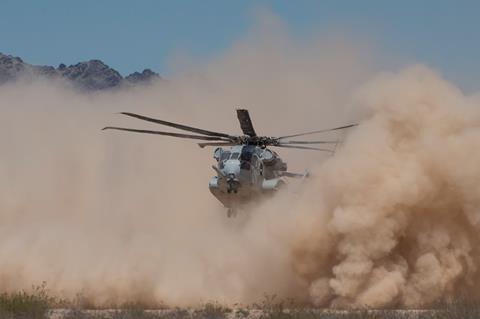 In February, the three-engined King Stallion was selected by the country's defence ministry over the competing Boeing CH-47 Chinook to replace the Israeli air force's fleet of elderly CH-53D Yasur helicopters.
That purchase was subsequently authorised by the US Department of State, which in July approved the sale of up to 18 CH-53Ks, plus 60 GE Aviation T408 engines, weapons and mission systems, plus training, spares and support for a total value of $3.4 billion.
Should the contract be concluded, Israel will be the first export customer for the CH-53K, which has so far only been ordered by the US Marine Corps.