Korean Air has signed memorandums of understanding (MoUs) with Boeing related to helicopter upgrade work and the development of new unmanned air vehicles (UAVs).
Both MoUs were signed at this week's Seoul ADEX defence show.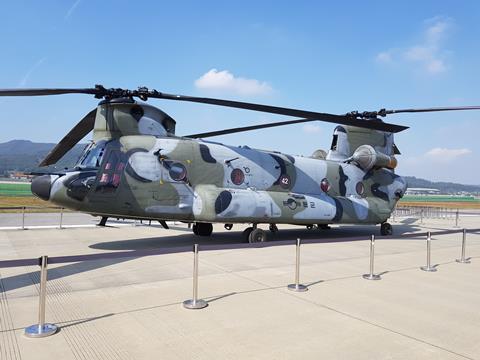 The first MoU relates technical cooperation to enhance MRO capabilities for South Korea's vertical lift fleet, namely the AH-64 Apache and CH-47, says Korean Air.
"The cooperation between the two companies will contribute greatly to enhance the domestic maintenance capabilities of the Korean military's rotary-wing aircraft by combining the best aircraft performance and MRO technology provided by Korean Air, and the world's best military aircraft technology provided by Boeing," says Korean Air chief operating officer Soo Keun Lee.
Cirium fleets data suggests that the Republic of Korea Army operates 34 CH-47Ds with an average age of 37 years, and 36 AH-64Es with an average age of five years.
Korean Air, which has an extensive MRO and aerospace division – KAL ASD – has long supported US and South Korean military aircraft in the region.
The second MoU will see Korean Air team up with Boeing unit Insitu in relation to technical cooperation to develop a lightweight tactical UAV with the ability to take-off and land vertically.

Korean Air also used the ADEX event to promote its developmental KUS-VS UAV, which uses what the company calls "lift & cruise" technology, whereby independent rotors provide cruise and lift. Four horizontal rotors are used for take-off and landing, but these are switched off during flight, with a single vertical rotor providing forward thrust.
Korean Air is heavily involved in a range of UAV developments, from small drones up to its Medium Altitude Unmanned Aerial Vehicle system.
In late September, the company secured a government contract to develop a low-observable UAV to advance South Korea's stealth technology.