Leonardo Helicopters has dropped the Honeywell HTS900 powerplant from the Kopter AW09 light-single, replacing it with the Safran Helicopter Engines Arriel 2K.
Flights of the Arriel 2K aboard the latest AW09 prototype – pre-serial (PS) 4 – are due to commence shortly from Kopter's facility in Mollis, Switzerland. However, Leonardo has not disclosed what impact the change of engine will have on the AW09's certification timeline.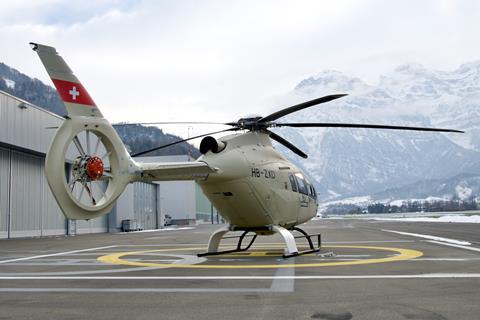 Certification basis for the AW09 was agreed with the European Union Aviation Safety Agency last year, the manufacturer states.
Leonardo says it will not speculate on the timing of certification, adding: "Our main objective is to meet market expectations in a highly competitive segment and category."
The airframer has been vague for some time about when the AW09 would gain approval; the latest move likely pushes the milestone into 2024 or potentially even 2025. Development of the helicopter began in 2009 under Marenco Swisshelicopter.
Besides the new engine, aircraft PS4 also incorporates other improvements, including new rotor blades and aerodynamic refinements, that were evaluated on the previous P3 prototype. The final test aircraft, PS5, is due to follow later this year.
Ditching the HTS900 removes one of the few components that remained from the AW09's genesis as the SKYe SH09.
Leonardo Helicopters acquired Kopter in April 2020 and has since been refining the platform.
Gian Piero Cutillo, managing director of Leonardo Helicopters, says: "Since the integration of Kopter into our organisation and the introduction of the AW09 into our product range, we have firmly maintained our commitment to deliver to the market exactly what it expects from a single engine of the latest standards backed by an efficient and responsive global support network.
"The decision to select this propulsion system is totally consistent with this strategy and we look forward to working with our partner to bring the most modern single engine on the commercial market."
No detailed specifications for the Arriel 2K were immediately available, but Safran says it is in the 1,000shp (745kW) class – a similar output to the 1,020shp of the HTS900.
In addition, the 2K model introduces several new features, including a dual-channel FADEC with an engine automatic control system as back-up.

Dominic Perry is deputy editor of Flight International but also contributes extensively to flightglobal.com. Although specialising in the coverage of the helicopter industry, he has written on most topics in aerospace – be they commercial, defence or business aviation. In addition, there has been an increasing focus on the decarbonisation of the industry and zero-emission flight initiatives.
View full Profile