In a much-needed win, helicopter producer Sikorsky has secured a $2.7 billion contract with the US Marine Corps (USMC) to deliver an additional 35 CH-53K King Stallion heavy-lift helicopters.
Sikorsky on 24 August said the deal represents the largest single procurement agreement to date for the CH-53K, which is currently fielded by the USA and on order for Israel.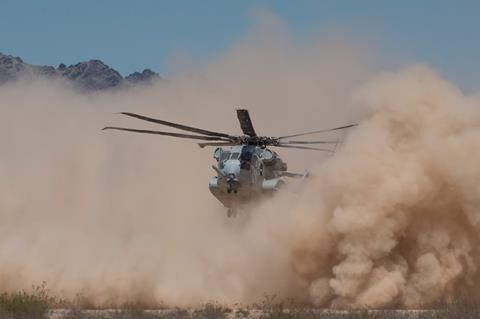 "This contract award for 35 CH-53K helicopters stabilises Sikorsky's nationwide supply base, creates additional production efficiencies, and provides the US Marine Corps with transformative 21st century technologies," says Paul Lemmo, president of the Lockheed Martin subsidiary.
Deliveries of the aircraft will begin in 2026, with 12 USMC King Stallions under Lot 7 aircraft, 15 under Lot 8 aircraft, plus eight aircraft for Israel.
Under its CH-53K programme of record, the USMC plans to procure a total of 200 of the three-engined helicopters as the successor to the service's current heavy-lift rotorcraft – the CH-53E Super Stallion.
With its three GE Aerospace T408-400 turboshaft engines, the CH-53K is among the most-capable heavy-lift helicopters currently under production.
The US Navy, which oversees aircraft procurement for the USMC, declared full-rate production on the CH-53K programme in December 2022. Sikorsky says it expects to increase production to more than 20 helicopters annually in the coming years.
The latest King Stallion contract is a much-needed win for Sikorsky, which has seen competitive losses in recent months in the US Army's Future Long-Range Assault Aircraft programme and a German army heavy-lift procurement effort.
Additionally, the USA is winding down its purchase of the iconic Sikorsky UH-60 Black Hawk – although Sikorsky remains confident it can offset that decline with overseas sales.
The company, which marked its 100th anniversary at the Paris air show in June, also announced a pending deal with Indonesia for 24 Sikorsky S-70M helicopters – the direct commercial sales variant of the Black Hawk.
Sikorsky produces the S-70 in Poland, under license to its Polish subsidiary PZL Mielec.