Tokyo is promoting the Subaru UH-2 utility helicopter for the export market, as the Japan Ground Self-Defense Force (JGSDF) gradually builds its fleet of the type.
So far, the JGSDF has taken delivery of six UH-2s, according to Vice Admiral Imayoshi Shinichi of Japan's Acquisition, Technology & Logistics Agency (ATLA).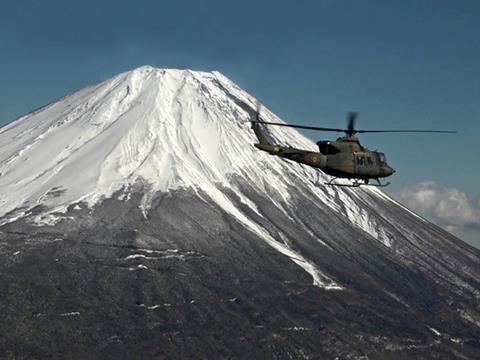 Shinichi made the remarks at the Langkawi International Maritime and Aerospace (LIMA) exhibition in Malaysia. The ATLA had a large stand at this year's show, and is promoting the UH-2.
Shinichi gave several reasons why the UH-2 is a suitable platform for export, including the helicopter's ease of maintenance. This is partially helped by compatibility with the venerable UH-1 and Bell 412.
Subaru says 80% of the hand tools required for the UH-1 and Bell 412 can be used on the UH-2.
"Exhibiting at a large scale exhibition allows us to disseminate more information and deepen knowledge about the UH-2's performance specifications," says Shinichi.
Shinichi says the type is suitable for a range of missions including disaster relief, emergency medical services, firefighting, law enforcement, and routine transportation.
In recent years, Tokyo has moved away from a de facto arms export ban, and is steadily becoming more open to defence exports.
In 2015, the Bell 412-based UH-2 design won a JGSDF competition for about 150 examples, beating a clean sheet design proposed by Airbus Helicopters.
A civilian version is also available, the Subaru Bell 412EPX, which has secured orders on the international market.
The UH-2 is powered by a pair of Pratt & Whitney PT6T-9 engines. A Subaru brochure states that the helicopter can be ready to take off in just 3min in extreme heat and cold.