Two General Atomics Aeronautical Systems Avenger unmanned air vehicles (UAVs) have used sensor pods to spot long-range airborne threats and fuse the resulting data.
The work saw the two UAVs use Lockheed Martin Legion pods to passively sense airborne threats, use an algorithm to fuse the data, and then send it to a command centre, says General Atomics.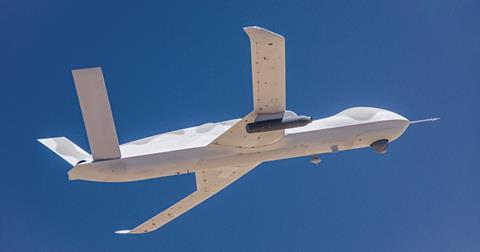 "This first-time, industry-funded flight test demonstrates the maturing capabilities of [unmanned air system] platforms and sensors to deliver fused sensor data," says Michael Atwood, the company's senior director of advanced programmes.
"Avenger with Legion Pod demonstrates how collaborative autonomous platforms with advanced sensing can deliver persistent, shared air domain awareness."
During a 2h sortie in November 2021, the Avengers used the Legion Pod's infrared search and track (IRST) capability to detect "multiple fast-moving aircraft". The data generated by both pods was fused in real time, and then streamed to a ground station.
"This is the first time IRST systems on multiple autonomous aircraft have delivered merged air threat data to users on the ground," says Scott Roberson, director of sensors and global sustainment advanced programs at Lockheed. "It's a big step in developing a common operating picture that boosts situational awareness across domains in joint operations."
The fusion system had already been tested aboard Boeing F-15s equipped with Legion pods during the 2021 Northern Edge operational exercise.
In July 2021, an Avenger autonomously tracked multiple targets using the Legion Pod's IRST capability.