Two General Atomics Aeronautical Systems MQ-20 Avenger unmanned air vehicles (UAVs) flew for multiple hours in coordination using the Skyborg autonomy core system as part of a test event on 26 October.
Skyborg is a software and hardware package designed to allow a variety of low-cost, loyal wingman UAVs to fly and carry out missions autonomously.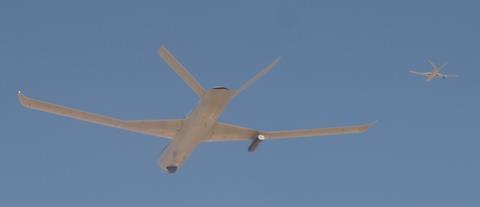 The recent flight test was conducted during the US Air Force's (USAF's) Orange Flag (OF) 21-3 Large Force Test Event at Edwards AFB, California, the service said on 29 October.
"The flight demonstrated matured capabilities of the [autonomy core system] that enabled two MQ-20s to fly autonomously while communicating with each other to ensure coordinated flight," says the USAF. "Additionally, the aircraft responded to navigational commands, stayed within specified geo-fences, and maintained flight envelopes. Both aircraft were monitored from a ground command and control station."
The Skyborg autonomy core system, developed by Leidos and owned by the US government, has also been demonstrated aboard a Kratos Defense UTAP-22 Mako tactical UAV.
The USAF sees Skyborg as the brains behind future "attritable" UAVs – a new class of low-cost unmanned aircraft that can be replaced at minimal cost if lost to combat attrition. For the service, that means a price between $2 million and $20 million per aircraft.
The USAF envisions deploying attritable UAVs in support of manned aircraft, for example to conduct intelligence, surveillance and reconnaissance, tanker protection and air-to-ground strikes. The inexpensive price of the aircraft could enable the service to field large fleets of the type.
"Large force testing of autonomous unmanned-unmanned teaming is the natural evolution to fielding warfighter capability for the future fight," says USAF Brigadier General Matthew Higer, 412th Test Wing commander at Edwards AFB.
The USAF says future experiments will test teaming between manned aircraft and multiple Skyborg-controlled UAVs.
The General Atomics Avengers used in the experiment also appear to have carried Lockheed Martin's Legion Pod; sensor hardware that includes an infrared search and track (IRST) capability, according to an image released by the USAF. In July, General Atomics demonstrated one of its Avengers autonomously tracking and following multiple targets using the Legion Pod.
Experimentation with Avengers paired with IRST pods might indicate an interest by the USAF in using the UAV for high-value asset protection missions, such as guarding vulnerable in-flight refuelling tankers or airborne warning and control system (AWACS) aircraft.
In March 2020, General Atomics unveiled a conceptual UAV called "Defender", intended to serve as an air-to-air missile platform for protecting large and slow-moving aircraft, such as tankers. That unmanned aircraft was based off the Avenger design.
It is thought that in early hours of a conflict with Beijing, China's air force would try to knock out those types of aircraft. Destroying the USAF's tankers would limit the reach of the service's fighters and bombers. Shooting down AWACS aircraft would make it more difficult to spot Chinese aircraft and coordinate air battles.