Aerospace manufacturing giant Boeing is progressing in its development programme of an autonomous tanker aircraft for the US Navy (USN).
The US-based planemaker, which recently moved its headquarters to Arlington, Virginia from Chicago, was on 29 July awarded a $57 million USN contract under Boeing's MQ-25 Stingray programme, according to the US Department of Defense.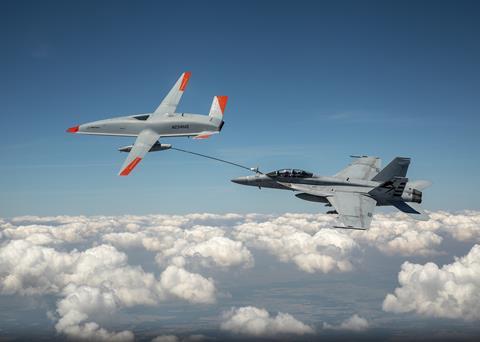 The funds will be used to procure initial spare parts and repair equipment for the Stingray, which is poised to become the USN's first-ever carrier-launched fixed-wing aircraft that operates without a crew. Instead, the MQ-25 is capable of autonomous take-off, flight and landing back on the carrier.
A small number of the unmanned jets could ultimately be assigned to each USN aircraft carrier to provide in-flight refuelling support to crewed aircraft. That task is sometimes performed by Boeing F/A-18 Super Hornets, which removes a combat aircraft from other potential missions.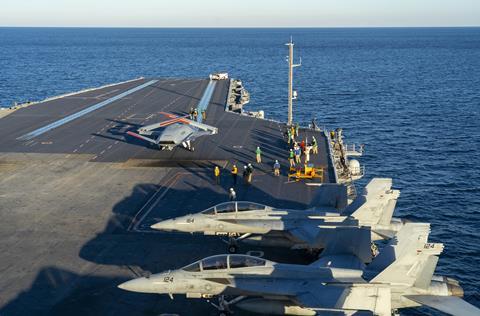 The recent award is an endorsement of the Stingray programme, which has been beset by delays according to the auditors at the US Government Accountability Office (GAO). A June report from the GAO found that Boeing is 10% behind schedule and 18% over-budget on development of the MQ-25.
The company blames pandemic-related supply chain backlogs and labour shortages for some of those issues, while also noting "design challenges" related to the development of a first-of-its-kind aircraft.
During a recent tour of Boeing's defence division in St. Louis, Missouri, company officials with the MQ-25 programme told FlightGlobal that they are currently projecting that the Stingray will begin low-rate initial production in 2024, with the USN reaching initial operating capacity in 2025.