As the USA and its allies move beyond the post-9/11 "War on Terror" conflicts in Afghanistan, Iraq, Libya and Syria, they increasingly find themselves confronting a new dimension of global tension – great power competition. How Western armed forces should be set up in this new era is the subject of much deliberation, but at least one study has reached the encouraging conclusion that a significant contribution to readiness and deterrence can be made by redeploying existing aircraft.
According to the Washington DC-based Center for Strategic and Budgetary Assessments (CSBA), "In an era of renewed great power competition, one of the most significant challenges the United States and its allies face is the need to deny China or Russia the ability to launch opportunistic acts of aggression against an ally or partner in the Western Pacific or Eastern Europe." The CSBA contends that those regions could be effectively patrolled by "a network of existing non-stealthy long-endurance unmanned aircraft systems to maintain real-time, persistent situational awareness in key geographic areas".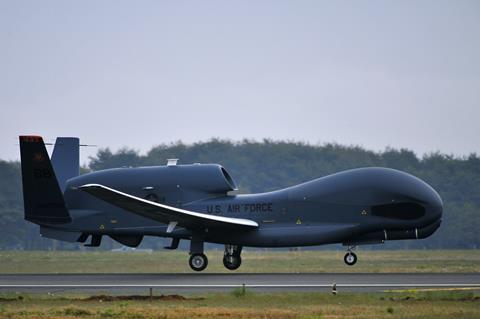 In an April 2020 report titled Deterrence by Detection: A Key Role for Unmanned Aircraft Systems in Great Power Competition, the CSBA says that by pooling existing resources to maintain a fleet of just 92 aircraft, the USA and its allies and partners could deliver the "real-time situational awareness" needed to counter "sub-conventional gray zone aggression" and provide early warning against "a conventional fait accompli gambit" – for example, a Russian land-grab in the Baltics or Chinese move against Taiwan – which would be very difficult to reverse after the fact.
This "deterrence by detection" strategy, the CSBA says, would involve sustaining long-endurance unmanned aerial reconnaissance of the Taiwan Strait, South China Sea, and East China Sea in the Asia-Pacific, and the Baltics, Black Sea, and eastern Mediterranean Sea in Europe. Surveillance would also be required along the Chinese coastline.
In the view of authors Thomas Mahnken, Travis Sharp and Grace Kim: "Our adversaries are less likely to commit opportunistic acts of aggression if they know they are being watched constantly and that their actions can be publicised widely. Real-time situational awareness can contribute to meeting the fait accompli challenge."
US Air Force (USAF) planning does not, however, support this emphasis on existing, non-stealthy unmanned air vehicles (UAVs). Indeed, after suffering several prominent shoot-downs in 2019, the air force plans to reduce the size of its long-endurance unmanned fleet and invest its funds elsewhere.
In a surprise move within its fiscal year 2021 budget request, the service revealed in February that it wants to stop buying the General Atomics Aeronautical Systems MQ-9 Reaper in FY2020. It also wants to retire 21 of its 31 Northrop Grumman RQ-4 Global Hawks, particularly older Block 20 and Block 30 variants.
As the USAF shifts its focus away from counter-terrorism and anti-insurgency and towards foes such as China and Russia, it calculates that its money will be better spent on aircraft, subsystems and weapons that can safely operate within range of sophisticated surface-to-air missiles.
Despite this, two long-endurance UAV manufacturers – General Atomics and Northrop – believe their products could play a role in preventing conflict with China and Russia. Both companies point to the CSBA study to back their claims, arguing that their respective MQ-9 and RQ-4 aircraft could, despite their vulnerability to surface-to-air weapons, play key surveillance roles.
The CSBA sees persistent patrol by such aircraft as an important "trip wire" that would give the USA and allies more time to "ensure that forward-postured forces are prepared to respond decisively". UAVs, the authors argue, maintain four great advantages: time on station; cost per flight hour; lower risk to human life; and manned-unmanned teaming efficiencies.
The MQ-9 has a flight endurance of 27h and operates up to 50,000ft, while the RQ-4 can stay aloft for more than 30h at up to 60,000ft. Both aircraft can carry a variety of payloads including electro-optical/infrared cameras, radar, communications relays and signals intelligence electronics. "[UAVs] generally provide greater time-on-station persistence than satellites or manned aircraft," says the CSBA.
UAVs can also be cheaper to fly. "It would cost $59 million per year to use an MQ-9 to maintain round-the-clock coverage of a 1,000nm [1,850km] orbit, compared to $1.8 billion for a manned ISR aircraft to provide the same coverage," says the report.
Moreover, by keeping pilots out of harm's way, unmanned aircraft could prevent a geopolitical crisis. "In 2017, US forces in Syria twice shot down Iranian-made armed drones and Iranian armed forces shot down a US Navy RQ-4 Global Hawk in 2019," the CSBA notes. "In these instances, escalation dynamics may have been more likely to spiral into armed conflict had the downed aircraft been manned."
Lastly, UAVs can increase the efficiency of manned aircraft. "By relying on [UAVs] to conduct initial persistent, wide-area searches and later cueing manned aircraft to conduct more focused follow-on searches, military commanders are able to conserve their manned forces for missions that do not suit [UAVs]," the report says.
UAVs have disadvantages, however. Compared to manned alternatives, the MQ-9 and RQ-4 typically fly slower, struggle to react quickly or improvise in unanticipated situations, and lack defensive measures. They are also not stealthy, the report notes.
Nonetheless, the CSBA argues that the advantages of long-endurance UAVs outweigh their vulnerabilities. Whether the USAF agrees with that assessment remains to be seen.
How surface-to-air missiles are changing the UAV industry
1

2

Currently reading

Could long-endurance UAVs be repurposed for surveillance of Russia and China?

3