Safran has secured its first export contract for the Patroller tactical unmanned air vehicle (UAV), with Greece signing a four-unit deal via the NATO Support and Procurement Agency.
To replace the Greek army's current Sperwer UAVs – manufactured by Safran Electronics & Defence predecessor Sagem – the Patrollers will be delivered from late 2024. Greece has also ordered three ground stations.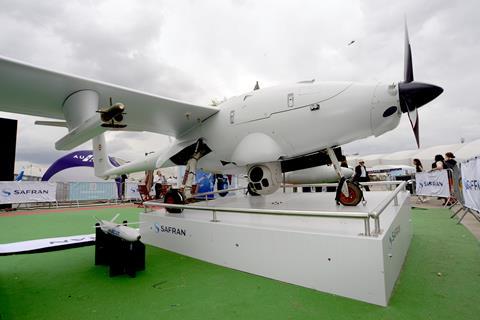 Fitted with a Safran Euroflir 410 electro-optical sensor, the UAVs will be used for surveillance missions, says Franck Saudo, chief executive of Safran Electronics & Defence.
Saudo says the deal expands the "long-standing relationship" between Greece and Safran.
He highlights the Patroller's export potential, citing its "world first" certification to fly over built-up areas, construction to NATO standards, and the performance of its sensors "to detect and identify" targets.
Lead customer France will receive its first Patrollers over the summer, says Saudo, with an initial pre-production example having been handed over in May to the army's 61st artillery regiment in Chaumont for evaluation and familiarisation.
France has an existing commitment for 14 of the domestically produced UAVs, but the draft version of the country's LPM military procurement law – to be finalised this year – provides for a further 14 units.
In addition, Safran is working with the country's DGA procurement body to arm the French Patrollers with Thales laser-guided rockets; the development will be "ready for 2026", says Saudo. Displayed on the company's Paris outdoor exhibit, the Patroller is shown equipped with a pair of twin-rocket pods on under-wing hardpoints; a Hussar air-to-ground munition was also pictured alongside the UAV.
Safran claims a 15h endurance and payload of 210kg (462lb) for the Patroller.

Dominic Perry is deputy editor of Flight International but also contributes extensively to flightglobal.com. Although specialising in the coverage of the helicopter industry, he has written on most topics in aerospace – be they commercial, defence or business aviation. In addition, there has been an increasing focus on the decarbonisation of the industry and zero-emission flight initiatives.
View full Profile