Korea Aerospace Industries (KAI) and Northrop Grumman have signed a memorandum of agreement (MOA) related to vertical take-off and landing (VTOL) unmanned air vehicles (UAVs).
The two companies signed the pact on 18 January, according to KAI.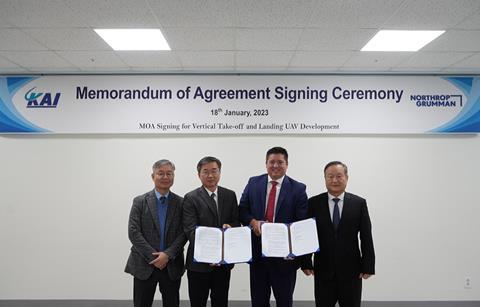 The MOA will see the two companies cooperate on the local development of VTOL UAVs that can operate from South Korean destroyers.
Northrop has extensive experience in this field, as the developer of the MQ-8B and MQ-8C Fire Scout unmanned helicopters.
KAI anticipates that Northrop's experience with the Fire Scout platform will reduce its risk as it develops a similar system locally.
"Northrop Grumman has consistently led the market in the field of advanced unmanned aerial vehicles, and we expect that cooperation with KAI will dramatically improve the [South Korean] navy's maritime surveillance and reconnaissance capabilities," says Northrop vice-president Richard Sullivan.
KAI, for its part, has developed systems such as the RQ-101 UAV. It also has UAV development arrangements with Israel Aerospace Industries and Elbit Systems, and is working on MUM-T (Manned-Unmanned Teaming) technology for helicopters.
In October 2022, Korean Air – KAI's local rival – and Airbus Helicopters also signed an MOA around the development of VTOL UAVs for South Korea's navy.