Kratos Defense and Security Solutions purchased small jet turbine manufacturer Technical Directions for an undisclosed amount on 24 February.
The company makes the TDI-J85, the 200lb-thrust (.89kN) jet turbine behind the US Air Force Research Laboratory's (AFRL) low-cost cruise missile, the Gray Wolf. The prime contractor on the Gray Wolf is Northrop Grumman.
In March, the AFRL tested the Gray Wolf with multiple inflight engine starts and operation at high altitude.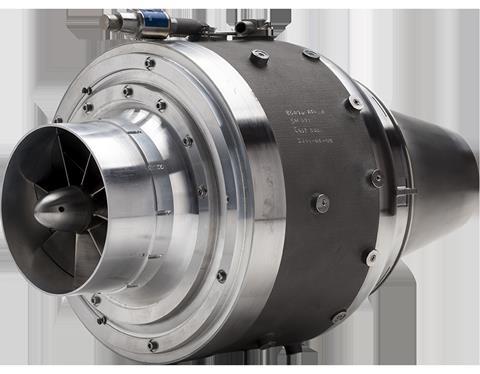 Kratos bought Technical Directions because of its focus on low-cost jet turbines and its shared design philosophy, says Steve Fendley, president of Kratos Unmanned Systems Division, on 25 March. "[We] met up with [Technical Directions] and really determine very quickly that we had very similar business approaches, very similar philosophies on what makes sense on the evolution and application of leading edge, but not bleeding edge, technology," he says.
Technical Directions is located about an hour north of Detroit, Michigan and was founded in 1983 as a consulting firm, but evolved into a low-cost turbine developer. Its first engine was made from a small truck turbocharger, says Joseph Kovasity, senior vice-president at Technical Directions.
"We did that through the '80s and early '90s and eventually landed a programme at Lockheed Martin called Low Cost Autonomous Attack Systems (LOCAAS) which was an Air Force-Lockheed Martin programme," he says. "The way we got that programme was we demoed an engine start using a leaf blower. Starting a turbine engine is typically very difficult, but we typically get ignition at 5% engine speed and for the LOCAAS programme that really sold Lockheed. Within a week we had a contract with them, which led to our -J45, our smallest engine."
LOCAAS was an Air Force Research Laboratory programme in the late 1990s that intended to build a cheap anti-tank missile. It was eventually cancelled.
SMALL AND SIMPLE
Technical Directions builds four jet turbines, including the TDI-J85 and TDI-J45. The number in each engine name represents the turbine's outside diameter in inches. For instance, the a 30lb-thrust TDI-J45 is 4.5in (114mm) in diameter. The company's two other engines are the 55lb-thurst TDI-J5 and 100lb-thrust TDI-J7.
The engines are designed to be cheap enough to be expendable.
Technical Directions says typical mission operating environments for its engines are between 20,000-30,000ft altitude at flight speeds between 200kt (370km/h) and 534kt.
"They all have integral generators," says Kovasity. "We typically power all the electronics on board of an aircraft, somewhere in a 1.5kW-range for all engines."
The company's turbines have fewer moving parts than other companies, he says.
"We've got an electric power generation capability. However, we don't have a lot of money and complicated sophisticated systems. We don't have a lot of pressure stages stacked up, which give you the really good fuel consumption that you'd typically find with Williams and Rolls Royce, and some of the bigger guys."
The turbines also don't use lubricating oil.
"We run 100% of fuel through our bearings, which was a major cost saving," says Kovasity.
The company's engines are in a narrow section of the market.
"We live in a niche between the hobby engine, the Tinker Toys they use on model airplanes, and the big sophisticated folks like Williams, Pratt and Whitney, and Rolls Royce," he says. "We're in a niche between the two, in thrust, size and performance."
Technical Direction's engines are rugged, says Kovasity.
"Where we excel beyond the hobby guys is that our engines are designed from the ground up to be mil-spec. We can survive on the wing of an F-16. We can do windmill starts," he says. "We can operate at very high altitude. We sustain the shock and vibration."
The Gray Wolf was recently pictured on the wing of a Lockheed Martin F-16, per an AFRL photo.
LOW-COST METHODS
Technical Directions declines to disclose the cost of its engines, but notes its TDI-J85 was selected based on its low price by both Gray Wolf programme prime contractors, Northrop Grumman and Lockheed Martin. Lockheed Martin's cruise missile design is not moving forward to prototype testing.
Technical Directions says it is able to keep costs down with a Motor City mentality.
"We do come from a Detroit, Michigan, automotive background," says Kovasity. "If you know anything about automotive, it's high production and low cost. We bring a lot of those things with us."
Part of that approach includes new technologies in the machining process, though Kovasity declines to elaborate.
"A lot of industries in the country have a pre-determined idea that you have to go overseas to get low-cost manufacturing, essentially utilising overseas slave labor. We believe we can do it here with technology," he says. "Our push from the get-go has been, the low-cost is the technology."
Part of the low-cost characteristics of Technical Directions' engines is baked into the design from the start, says Fendley. "It's very, very, very hard to design cost out once it's in," he says.
Technical Directions is to be part of Kratos Unmanned Systems division. It is to be separate from the company's Kratos Turbine Technologies division, which was created after the purchase of Florida Turbine Technologies in February 2019. Both divisions make engines of similar thrust classes, but are separated organisationally and by design philosophy, says Fendley.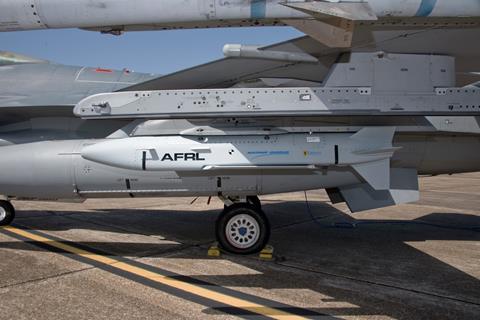 The Gray Wolf cruise missile in which the TDI-J85 is integrated is to have a range of at least 250nm (463km). The AFRL imagines it being used for a variety of missions including in a group as a networked swarm.
That vision for the Gray Wolf is similar to AFRL's Golden Horde initiative. A top priority for the USAF, the project is to create a networked swarm of munitions, including precision-guided bombs and cruise missiles, that would autonomously share targeting information and coordinate attacks.
"When each weapon shares measurements of a target's location, combining this information reduces errors since it creates a more accurate target location for all to reference," says the AFRL. "Ultimately, this supports the use of lower-cost sub-systems in place of more-expensive systems without sacrificing capability."
The AFRL wants to initially demonstrate the Golden Horde concept in late 2020, using a modified Small Diameter Bomb I and a modified Miniature Air-Launched Decoy. The laboratory wants the decoy and bomb to coordinate an attack against a simulated target in a fall 2021 demonstration.
Technical Directions declines to say what other applications its turbines could have, except that the engines are for low-cost munitions. Fendley of Kratos notes the jet engines are useful for loitering munitions, as well as cruise missiles.
"Not something as small as the [AeroVironment] Switchblade, but get a little bit larger," he says.