Zephyr, a solar-powered, long-endurance unmanned air vehicle (UAV) developed by Airbus Defence & Space and the US Army, came down unexpectedly on 19 August after 64 days of continuous stratospheric flight.
Airbus confirms that the aircraft's flight ended, saying it still completed numerous mission objectives. Few details are known, but flight data suggests a rapid descent.
"The teams are currently analysing the stratospheric flight that this mission provided. The valuable experience from this flight is part of the process of reaching our ultimate flight-endurance goals," Airbus says.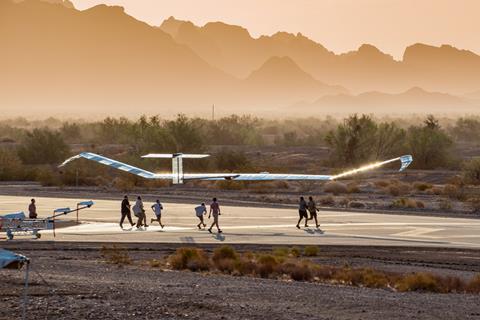 Zephyr had been airborne since taking off on 15 June, according to Army Futures Command (AFC), which managed Zephy's in-flight activities. The office did not respond to a FlightGlobal request for comment.
Known as a high-altitude pseudo-satellite (HAPS), the Airbus platform had recently being flying over the Yuma Proving Ground military test site in Arizona. The army is seeking to develop what it describes as an "ultra-long-endurance stratospheric [unmanned air system] capabilities".
Airbus sees many military and commercial applications for Zephyr, including for performing persistent intelligence, surveillance and reconnaissance, convoy protection, signal interception, crop monitoring and wildfire management.
The AFC notes that Zephyr achieved a number of firsts before its untimely return to Earth. It completed the "longest continuous flight utilising satellite communication controls, and the farthest demonstration from its launch point, while carrying a commercial, off-the-shelf payload".
The ultralight aircraft's wings spanned 25m (82ft) and held an array of solar panels, used to power Zephyr's two wing-mounted propellers. The aircraft weighed less than 75kg (165lb), according to Airbus.
Zephyr's systems stored enough solar power during daytime to power the aircraft at night.
Flight data then shows a sudden descent, with Zephyr losing altitude at a rate as high as 4,544ft per minute.
Neither Airbus nor the AFC have confirmed that a crash occurred. Airbus says only that the aircraft "experienced circumstances that ended its current flight".
Zephyr narrowly missed breaking the long-standing record for endurance flight, which was also set in the American Southwest. In 1958, two pilots of a Cessna 172 spent just under 65 days flying continuously near Las Vegas, Nevada, refuelling via a hose connected to a moving truck on the ground.