British Airways chief executive Sean Doyle believes the airline must be "honest" in assessing how it can compete at London Gatwick airport as talks continue on establishing a new lower-cost operation.
The Oneworld carrier stopped operating short-haul flights from Gatwick when the pandemic hit. Unions last month confirmed BA was in early stages of talks over creating a new short-haul subsidiary at Gatwick, where low-cost carrier EasyJet is the biggest operator and the likes of have outlined their intent to expand.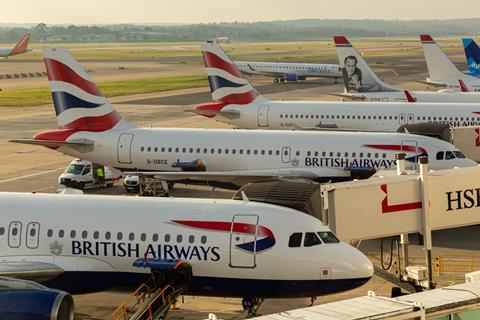 Speaking at a media event at London Heathrow today, Doyle said: "We've looked at Gatwick long and hard. We haven't been flying there [short-haul] for 18 months and its very important that, if we do go back into Gatwick short-haul… we are honest about what it will take to compete.
"We want to set up a subsidiary that has a competitive cost platform, that's got autonomy to run its business flexibly, but will be BA-branded," he says.
Such an operation would "offer the BA proposition" but be more efficient, he says. "We are in advanced negotiations to try and do that.
"If we can succeed in getting that platform, we will go in and commit to Gatwick. But if we don't, we wouldn't be honest with ourselves and wouldn't be able to compete there," Doyle adds.
BA risks losing its Gatwick slots once "use it or lose it" slot rules – which were suspended during the pandemic – are restored.
Doyle says BA would "consider alternatives for the slot portfolio" if no agreement is reached on a new operation for next summer.
Having eliminated short haul flights at Gatwick, BA has "right sized its business" at Gatwick, Doyle says.
"This actually would create opportunities to go back into Gatwick," he says of the potential new operation. "We are in the middle of an industrial consultation that is ongoing… But I think it's a great opportunity for the company if we can do this."