Cathay Pacific is to significantly increase operations to and from Mainland China, as the airline expects to double its number of flights by end-March.
In a statement on 5 January, the Hong Kong-based carrier says it is "working actively" to resume flights to the Chinese mainland, aiming to operate up to 100 flights a week by end-March, about twice the number of flights it currently operates.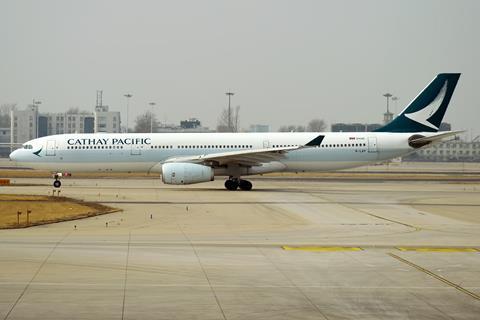 From 14 January, the airline will operate 61 return flights between Hong Kong and Mainland China. Now, it operates 27 outbound and 50 inbound flights to and from the Mainland.
The increased frequencies are still below the airline's pre-pandemic operations to the Chinese mainland, where it – together with now-shuttered unit Cathay Dragon – operated an extensive Chinese network.
Cathay's announcement comes as China prepares to swing open its borders to international travellers. The country has been all but completely cut off from the world since the coronavirus pandemic first started in the Chinese city of Wuhan.
From 8 January, travellers arriving in China need not quarantine upon arrival, though they will still be required to take a PCR test 48h before departure. Beijing also dropped a number of domestic pandemic-related restrictions, an about-turn after years spent pursuing a "zero-Covid" strategy.
Cathay is the first major operator in the Asia-Pacific region to disclose a significant ramp-up of Chinese flights since Beijing's announcement in late-December. So far, international airline response to the reopening has been lukewarm at best, in part due to a hodgepodge of testing requirements imposed by several countries around the world on Chinese arrivals.