Aircraft movements in European airspace are collapsing towards the low levels seen during the first wave of the pandemic in April, as more travel restrictions hit demand for airline operations, according to Eurocontrol.
Speaking during an event organised by the European air traffic management organisation today, Eurocontrol's director general Eamonn Brennan explains that the region is essentially seeing only "cargo operations, business jets and a very limited skeleton service of traditional point-to-point" flights in its airspace.
"We're reaching a low point in aviation that we haven't seen since the total stop of last April," he states. "The requirement for advanced testing is causing a complete stop in the system."
Amid a devastating wave of Covid-19 cases across the region, Europe's governments have been tightening borders – partly through the introduction of coronavirus testing requirements – and discouraging anything but essential travel during what was already expected to be a challenging quarter for airlines.
The first quarter of the year is also one where few carriers make profits during 'normal' times.
Amid this worsening near-term situation, airlines are instigating "huge capacity cuts" and are "removing flights" from already thin schedules, Brennan observes.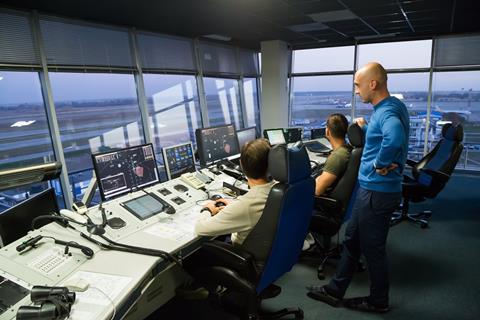 Eurocontrol is currently seeing "a 62% reduction" in aircraft movements versus the same period in 2019. "But the bad news is that next week we will issue a new set of scenarios, and we're trending downwards," he states.
"February is going to be very bleak and we don't see any significant improvement until after Easter," Brennan warns.
Eurocontrol data for 20 January reflects the desperate situation faced by Europe's airlines in the first weeks of 2021.
EasyJet, Ryanair and Wizz Air were each down 96% in terms of flights operated compared with the same day in 2019.
Among the better performers, KLM's numbers were down 62% and Air France's 67%.
Turkish carriers Pegasus and Turkish Airlines were down 48% and 56% respectively in a country with significant domestic flight opportunities.
Norwegian operator Wideroe's flight numbers were down only 13%, as it benefited from a historically large focus on domestic services.
Speaking during the same Eurocontrol event, Lufthansa group chief executive Carsten Spohr acknowledged the challenging start to 2021, but also stated his belief that the situation would improve during the European summer season, as Covid-19 testing and vaccine rollouts allow for the reopening of markets.