Recent government "panic" over rising Covid-19 cases across Europe threatens to undermine the recovery in air travel, according to Ryanair group chief executive Michael O'Leary.
"We're in for a fraught period between now and Christmas where it looks like Europe is going to get very nervous again at the worst time of the year, when people are making their Christmas travel plans," he told a Eurocontrol event on 23 November, adding that it could also "unsettle people between Christmas and New Year, when they would normally start booking their summer holidays".
O'Leary notes that "things were looking great" up until the region's pandemic narrative took a turn for the worse, with Ryanair "back running 100% of our pre-Covid flight volumes".
Pricing was down "about 30%", but "nevertheless you could see a clear recovery", he says.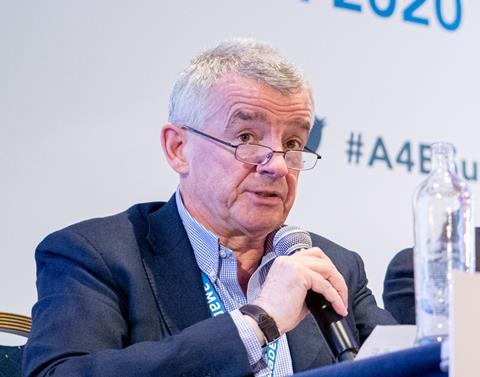 Today, however, "Austria's locking down, [the Netherlands] is locking down, the Germans are getting nervous", O'Leary says. "We're going to unsettle people, we're going to undermine confidence, particularly with the high levels of vaccination across it Europe."
The problem is that "governments are panicking", O'Leary observes. "They are under pressure from the media."
He therefore calls for "cool heads to uphold freedom of movement" within the European Union, "allowing people who are vaccinated to go to work and to travel".
Praising the EU's Digital Covid Certificate as "a huge success", he describes it as "critical" that the EU continues to uphold its use, adding that "we need booster jabs to keep people up to date with their vaccines"
Where restrictions are required, O'Leary believes they should be "imposed on non-vaccinated people" only.
"I really struggle to understand how you can restrict someone who has been vaccinated," he states.