An increase in aerial fire-fighting activities in Australia over recent years has contributed to a higher rate of safety incidents, according to the country's air accident investigation body, although stresses there has not been a rise in the risk per flight.
In a statistical report, the Australian Transport Safety Bureau (ATSB) notes a faster growth in occurrences between July 2019 and March 2020 than at any time during the previous 20 years. There were also two fatal accidents between August 2018 and March 2020, compared to just three in the previous 17 years.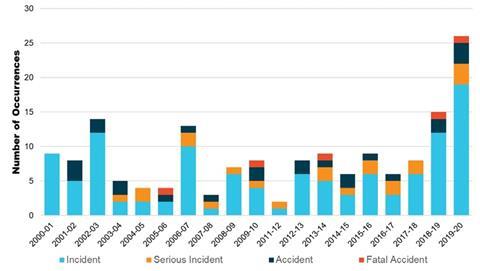 "Given the amount of recent bushfire activity in Australia, these results could be expected and probably do not indicate a significant increase in the risk per flight," says the ATSB. The 2019–2020 fire season is estimated have seen around four times the aerial firefighting activity than other recent bushfire seasons.
"However, it does indicate that the reported occurrences associated with aerial firefighting are probably increasing."
The report does not refer to specific incidents, but a major accident occurred in February when a Lockheed Martin EC-130Q operated by Coulson Aviation, crashed while fighting fires in New South Wales, killing three crew members.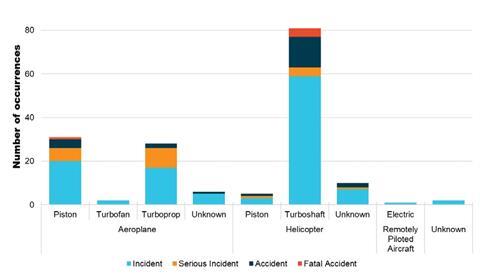 As for the aircraft types involved in safety incidents while firefighting, "almost half" involved turboshaft-powered helicopters. When hours flown and the number of flights are taken into account, however, the safety occurrence rate is in line with other categories. Moreover, piston-powered helicopters were more than twice as likely than turboshaft-powered helicopters to be involved in a severe occurrence.
"Over the [20-year] study period, over half of reported occurrences, all fatal accidents and four fifths of more severe occurrences were operational in nature," says ATSB. "Terrain collisions accounted for around half of the operational occurrences and 71 per cent of the more severe occurrences. Additionally, around one quarter of operational more severe occurrences involved aircraft control."