US regulators have ordered revision of Boeing 737 Max operational procedures at airports with a risk of 5G radio spectrum interference, and are prohibiting 737 Max services to such airports if certain braking and anti-skid functions are declared inoperable.
The measure from the US FAA is directed at the 737 Max 8, Max 9 and high-density Max 8-200 and is intended to protect the aircraft from unwanted interference from newly-commissioned 5G transmitter towers.
It mandates procedures for operators to account for longer-than-normal landing distances, or distances required for rejected take-off, in all runway conditions at airports where 5G interference is possible.
The FAA is also prohibiting the 737 Max from operating to or from 5G-affected airports where the runway condition offers the least friction as a result of ice.
It directive is the latest intended to reduce the risk of runway excursions at airports where the presence of 5G communications equipment could affect crucial aircraft systems, notably those which rely on radio-altimeter input.
While the FAA has cleared a number of aircraft types, Boeing has been continuing to evaluate the risk of interference to certain models.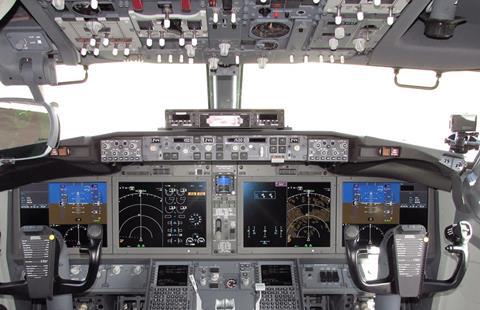 Based on Boeing's data, the FAA has concluded that multiple 737 Max systems – irrespective of the type of approach or weather conditions – could experience anomalies from 5G interference.
"These anomalies may not be evident until very low altitudes," the regulator states, adding that they could affect various flight-control or warning systems.
Autothrottle might increase thrust during the flare, or reduce to idle prematurely, it adds, while the thrust reversers or speedbrakes might not deploy after landing. Engines might remain at the wrong thrust setting after touchdown or during a rejected take-off.
As a result, braking could be the only means with which to decelerate, increasing the risk of an overrun, especially if engines are still operating above normal thrust settings or the runway is contaminated.
Similar concerns have previously been detailed for the Boeing 787.
Operators of the 737 Max must modify various approach and landing procedures in the aircraft's flight manual, and will not be permitted to release the aircraft if anti-skid or automatic braking systems are not functional. The FAA believes 177 aircraft on the US register are covered by the directive.