Maldivian investigators believe time pressure contributed to an accident in which a Viking Air DHC-6-300 Twin Otter seaplane collided with accommodation structures after aborting take-off.
The crew of the Trans Maldivian Airways turboprop, operating a charter flight from Kanifushi island to Velana airport, had decided to take off from a lagoon, in a northwest direction, despite there being a line of water villas ahead.
This direction had been chosen after the captain considered that, although the wind favoured a take-off to the west, he did not want to depart towards the island.
The intention was to turn away to the right after becoming airborne, to avoid flying over the 7m-tall villas which were about 690m distant.
Investigators state that the crew had the option of "other paths" for take-off, including moving further northeast before lining up, which would have ensured clearance.
It points out that the pilots had "strong concerns" about completing a final scheduled flight – from Velana to Rangali island – before the end of twilight on 13 November 2021, and were aware of potential weather-related delays.
The inquiry refers to "hurry-up syndrome" and says its contribution to the accident was "highly likely".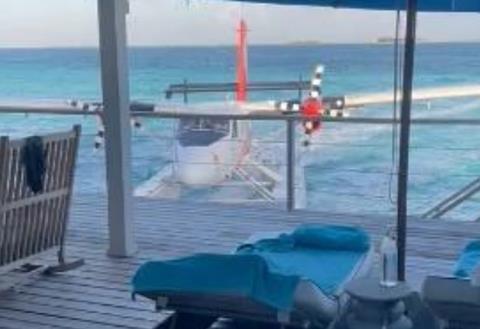 Analysis shows the take-off run was longer than expected and, although the aircraft (8Q-MBC) momentarily became airborne, it settled back on the water 230m from the villas.
The crew decided to abort the departure but could not move the throttle levers to the reverse position, and chose to cut the engines by shutting off the fuel.
But the aircraft continued to travel under its own momentum, striking two of the water villas and sustaining damage to the left wing, right-hand propeller and right wing-tip. The wooden villas also sustained structural damage. None of the 15 passengers or three crew members was injured.
Neither a flight-data nor a cockpit-voice recorder was installed on the Twin Otter, nor were they required, but certain flight and engine data was captured from the avionics suite.
While the crew was unable to engage reverse after aborting the take-off, investigators found no mechanical malfunction in the throttle levers.
But the inquiry found the propellers were operating below maximum, indicating the levers were not fully forward.
"The propeller levers may have moved back due to aircraft bumping on waves during the take-off run in the rough weather," it states.
According to a cautionary note in the carrier's operations manual, reverse power cannot be applied unless both propeller levers are in the full-forward position. The throttle lever linkage is design to avoid the levers being pulled aft of flight-idle if either is not fully forward.
Recommendations from the Maldives Accident Investigation Co-ordinating Committee say that regulators should re-examine the criteria for carrying flight recorders on aircraft with more than nine passengers.