European regulators have highlighted to helicopter operators the potential safety enhancement of carrying a flight recorder, even if their rotorcraft type does not meet the criteria for mandatory carriage.
The European Union Aviation Safety Agency published the informal recommendation on 27 January, the day after the high-profile fatal Sikorsky S-76B accident in California involving the well-known basketball player Kobe Bryant, and in the week of the Heli-Expo 2020 industry event.
While it is unclear whether the timing of EASA's recommendation was deliberately linked to the crash, US National Transportation Safety Board member Jennifer Homendy has disclosed that the helicopter was not carrying – and was not required to carry – either a cockpit-voice or flight-data recorder.
EASA says its safety publication, addressed to small helicopter operators, aims to "promote" installation of flight recorders which, it says, can weigh less than 1kg. It says that helicopters which fall outside of mandatory carriage criteria are worth equipping, in order to support safety monitoring.
Nearly 30 years old, the S-76 which crashed at Calabasas, had been flown by a pilot with 8,200h total time including 1,250h on type.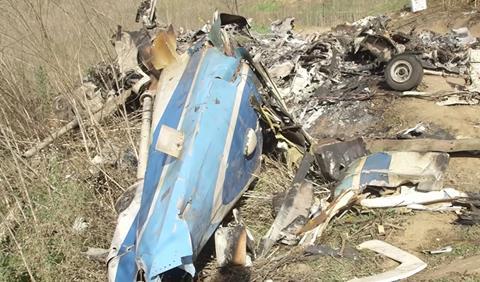 It had been bound for Camarillo and had transited the airspace around Burbank and Van Nuys at about 1,400ft, says Homendy, under a special visual flight rules clearance.
The helicopter pilot subsequently requested a "flight following" service – assistance from radar for traffic separation – to Camarillo but was informed that the S-76 was too low for this to be provided.
Some 4min later the pilot advised of a climb to "avoid a cloud layer", says Homendy. It climbed to 2,300ft before entering a left descending turn. The helicopter was in a left bank, with a descent rate exceeding 2,000ft/min before the "high-energy impact", Homendy adds.
The day before the accident, she says, the pilot – who had a "good amount of experience" – flew from Orange County John Wayne airport to Camarillo along a "more direct" flightpath.
Investigators at the crash site have been able to verify the presence of particular critical systems, such as actuators and gearboxes, and – while there was no flight recorder – the search has turned up personal electronic devices including a phone and tablet, although the inquiry has yet to confirm whether it belongs to the pilot. The pilot's tablet had a flight information application known as 'ForeFlight' installed.
Documents including weight-and-balance sheets and airworthiness certificates have also been retrieved, while the inquiry team has used drones to replicate the S-76's flightpath using ADS-B data.