Australian investigators have attributed a 2020 runway overrun by a Fokker 100 to the combined effects of the jet's approach speed and wet conditions.
The 9 January 2020 incident involved a Fokker 100 (VH-NHY, MSN11467) operated by Network Aviation landing at Newman Airport in Western Australia, says the Australian Transport Safety Bureau (ATSB) in its final report into the incident.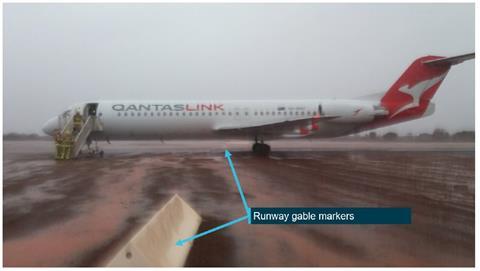 The aircraft was on a scheduled service from Perth Airport.
The F100, landing in rainy conditions, stopped 70m beyond the end of the runway. None of the 88 passengers or five crew were injured during the incident, although loose gravel from the runway threshold damaged some landing gear components.
"After a stable approach, the aircraft touched down in moderate rain, at or before the touchdown zone, at a speed 16kt above the reference landing speed for the configuration," says the ATSB.
"The crosswind at the time was recorded as gusting to 35kt. The flight crew experienced lower than expected braking performance and reported aquaplaning during the landing roll. The pilot flying used the aquaplaning response technique to maintain directional control and subsequently commanded maximum reverse thrust."
The ATSB's analysis found that the aircraft's higher approach speed, which was required by the wind conditions, and the wet runway reduced braking effectiveness, and resulted in the overrun.
Moreover, the ATSB says the crew did not identify the potential effects of the rainy conditions on stopping distance, and had not received guidance about recognising the prevailing conditions as a hazard. The runway also needed maintenance to ensure surface friction.
Following the incident, both the carrier, which is a unit of the Qantas Group, and Australia's Civil Aviation Safety Authority issued additional guidance and procedures for crews landing on wet runways.
"Active precipitation, particularly moderate to heavy rainfall, is one of many factors that can influence the stopping distance of an aircraft," says ATSB.
"Water on a runway that is not grooved can significantly reduce the ability of the aircraft to slow down. In wet weather, additional conservatism is encouraged when calculating the required landing distances. Operators and pilots are encouraged to review the latest guidance and tools available in relation to maintaining safety on runways and the factors that cause runway overruns."