The Federal Aviation Administration referred 17 unruly passenger cases to the US Federal Bureau of Investigation (FBI) for criminal prosecution during the first quarter of 2023.
Since late 2021, the FAA has referred 250 "of the most-serious cases" to the national law enforcement agency.
The referrals follow a sharp rise during the Covid-19 pandemic in the number of incidents involving passengers disrupting flights.
"If you act out on a plane, you should just stay at home because we will come after you with serious consequences," acting FAA administrator Billy Nolen said on 13 April. "We have zero tolerance for unruly behaviour."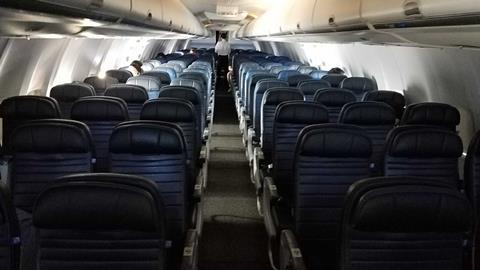 The incidents range from "inappropriate touching" of other customers to sexual and physical assaults against travellers and air-crew members. One alleged perpetrator attempted to "open [an] aircraft door and use a makeshift weapon". Another "said he needed to fly the aircraft" and one person deployed an aircraft evacuation slide, the FAA says.
"The FBI will continue to work with our FAA partners to ensure the safety of all passengers and to combat violence aboard commercial flights," says FBI assistant director Luis Quesada of the Criminal Investigative Division. "We remain committed to investigating all incidents that fall within FBI jurisdiction aboard commercial flights."
While the rate of unruly passenger incidents has dropped by more than 80% since record-highs in early 2021, "unacceptable behaviour continues to occur", the FAA adds.
In 2021, the FAA reported 5,973 such events, with an all-time high of 720 incidents reported in March. In 2022, the total figure dropped to 2,455. Of those, the FAA initiated enforcement actions in 567 incidents.
Under the government's "zero tolerance" order, aimed at deterring belligerent behaviour aboard aircraft, the FAA can propose civil penalties of up to $37,000 per violation. During 2022, the FAA levied $8.4 million in such penalties.
Last April, the regulator imposed one of its priciest penalties on record, fining a passenger who was travelling from Dallas-Fort Worth to Charlotte almost $82,000. The FAA says the passenger "threatened to hurt the flight attendant that offered help to the passenger after she fell into the aisle".
"The passenger then pushed the flight attendant aside and tried to open the cabin door. Two flight attendants tried to restrain the passenger, but she repeatedly hit one of the flight attendants on the head. After the passenger was restrained in flex cuffs, she spit at, head butted, bit and tried to kick the crew and other passengers," the FAA said at the time.