India's Director General of Civil Aviation (DGCA) has queried SpiceJet following a series of recent safety incidents, with the carrier defending its safety standing.
In a 5 July Show Cause Notice, the agency focuses safety issues with flights that have taken place since 1 April, and given the carrier three weeks to reply.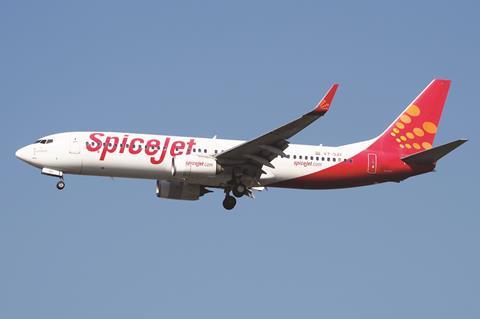 It claims that on a "number of occasions" the carrier continued a flight or turned back under "degraded safety margins."
It cites "poor internal safety oversight and inadequate maintenance actions" and contends that most incidents related to either component or system failures.
A DGCA assessment in September 2021 reveals that carrier's vendors were not being paid regularly, causing a shortage of spares.
"It may be deduced that SpiceJet has failed to establish safe, efficient, and reliable air services," under aircraft legislation from 1937, says DGCA.
SpiceJet, for its part, says it will respond to the DGCA, and that it is committed to safe operations. It notes that it obtained an IOSA (IATA Operational Safety Audit) in October 2021.
"We have been regularly audited by DGCA," it says on 7 July. "All our aircraft were audited a month ago by the regulator and found to be safe."
It adds that all flights are operated in compliance with DGCA regulations.