The US National Transportation Safety Board (NTSB) is investigating the crash of an experimental aircraft belonging to air taxi developer Joby Aviation.
Joby reported the crash, which reportedly resulted in substantial damage to the aircraft, in a filing with the Securities and Exchange Commission (SEC) late on 16 February.
"Earlier today one of its remotely piloted, experimental prototype aircraft was involved in an accident during flight testing at our remote flight test base in California," Joby writes in the filing. "There were no injuries. Safety is a core value for Joby, which is why we have been expanding our flight envelope with a remote pilot and in an uninhabited area, especially as we operate outside expected operating conditions."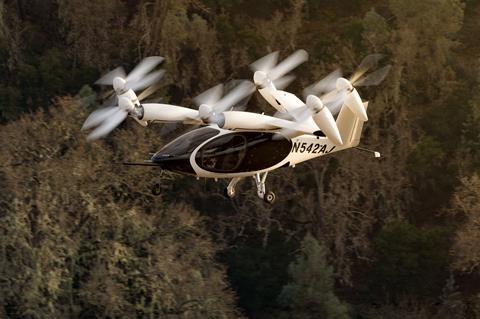 "Experimental flight test programs are intentionally designed to determine the limits of aircraft performance, and accidents are unfortunately a possibility," the company adds. "We will be supporting the relevant authorities in investigating the accident thoroughly."
In a Twitter posting on 17 February, the NTSB says the crash occurred in Jolon, California, which is located about 174mi (280km) south of San Francisco. The agency did not immediately respond to a request for more information.
The Silicon Valley-based company is developing an all-electric vertical take-off and landing (eVTOL) aircraft with five seats that is planned to have a maximum range of 133nm (241km) on a single charge and travel at a top speed of 178kt (321 km/h).
Joby hopes to gain Federal Aviation Administration certification for the craft in 2024, enabling the launch of commercial operations the same year. It is unclear what effect the accident will have on that timeline.