Preliminary information from the flight recorders of the crashed Pakistan International Airlines Airbus A320 in Karachi have not indicated any reason for A320 operators to take safety action.
Airbus has contacted operators of the aircraft type following the 22 May accident which occurred as the PIA jet, arriving from Lahore as flight PK8303, attempted to conduct a second approach after executing a go-around.
FlightGlobal understands that operators have been informed that Airbus has "no specific safety recommendations to raise at this stage of the investigation", following an initial analysis of cockpit-voice and flight-data recordings, air traffic control records, and site information.
"Both recorders provided valuable information for the investigation," operators have been advised.
While the inquiry has yet to detail the circumstances of the accident, the absence of recommendations in the Airbus communication provisionally indicates that there was nothing technically unsound about the aircraft and that its systems showed no unexpected or unusual response to crew actions.
No specific flight-data recorder information has been released on the status of the landing-gear during the first approach to Karachi's runway 25L, or the dynamics of the final approach such as the descent rate.
But the all-operator communication indirectly strengthens the evidence that the landing-gear of the aircraft was not malfunctioning before the jet apparently touched down on the runway on its engine pods, rather than its wheels, and climbed away.
For a parked A320 with CFM International CFM56 engines there would normally be 0.57m ground clearance from the underside of the nacelles.
The A320 had previously been the subject of main landing-gear deployment issues in 2013 which were traced to actuator jamming. But crew communications with Karachi air traffic control had not referenced any landing-gear problems.
A320 normal pre-landing cockpit procedures include a 'landing-gear down' check which typically accompanies setting of the go-around altitude, arming of spoilers, and a check on the flap configuration.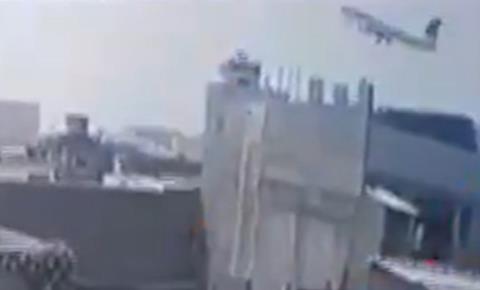 After the go-around the crew indicated to air traffic control that the aircraft was unable to hold altitude and had lost engine power. Surveillance video images of the aircraft's final descent, as it attempted a second approach, clearly show the landing-gear deployed.
Just two of the 99 occupants survived the accident.
Pakistan's aircraft accident investigation board is leading the probe, assisted by Airbus, Safran Aircraft Engines, the European Union Aviation Safety Agency, and French investigation authority BEA which took responsibility for downloading the flight-recorder information at its Paris facilities.