Canadian authorities have ordered urgent replacement of rotor hub strap pins on certain Bell helicopters after premature failure of the component was found during investigation of a fatal Bell 212 crash.
The inquiry into the recent accident found that one of the outboard main rotor hub strap pins sheared off during flight, causing the rotor head and rotor blade to detach.
Transport Canada says the failed pin had only accumulated 20h of service.
Inspection of another Bell 212, it says, found another main rotor strap pin to be "deformed" after just 29h.
Both had the same part number, were made by the same manufacturer, and had the same serial number prefix 'FNFS'.
"Failure of a main rotor hub strap pin will result in detachment of the main rotor blade and loss of control of the helicopter," says the regulator.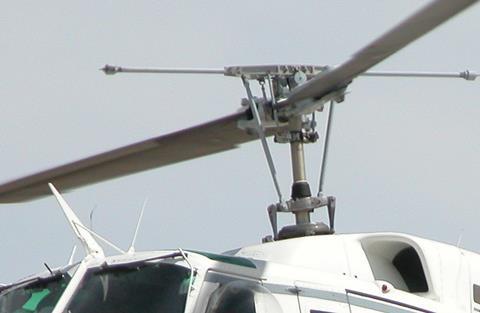 Although the defective pins were only found on Bell 212s, Transport Canada says the same part number can also be fitted to three other Bell helicopter models – the 204B, 205A-1 and 205B.
Bell has taken the precautionary measure of issuing a service bulletin requiring operators to replace all strap pins with the suspect part number and prefix, and this has been mandated by an emergency directive from the regulator.
Transport Canada says the work must be carried out before further flight. US and European regulators have issued similar directives.
While the regulator does not specify the details of the accident which prompted the directive, Canadian investigators have been probing a crash involving a Yellowhead Helicopters Bell 212 (C-GYHQ) at Evansburg, Alberta, on 28 June.
It had been engaged in emergency activities relating to wildfires in the region. The pilot, the only occupant of the helicopter, sustained fatal injuries.
Transportation Safety Board investigators have yet to reach conclusions over the cause of the accident.