Investigators probing a Boeing 737-500's below-glidepath approach to Usinsk, before the jet struck a snow bank upon landing, have revealed that the crew did not correct the altitude for the freezing air temperature.
The Utair jet struck the 1.1m bank of snow, located 32m before the runway, after arriving from Moscow Vnukovo on 9 February last year.
Russia's Interstate Aviation Committee had previously suggested the aircraft was consistently slightly below required altitudes as it passed a series of waypoints for the area navigation approach to runway 13.
But in its newly-released final analysis it states that the aircraft was actually substantially lower than indicated – by about 280ft – because the crew had not corrected for the air temperature.
When the air temperature is lower than the assumptions of standard atmospheric conditions, true aircraft altitudes are lower than indicated altitudes. The temperature at Usinsk was minus 21°C.
During their approach briefing, the inquiry says, the pilots paid "most attention" to reducing the risk of a runway excursion but "did not discuss" the risk of using barometric vertical navigation in low-temperature conditions.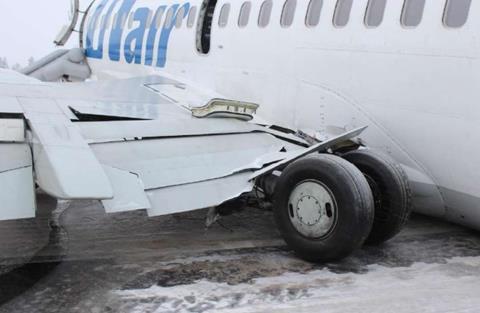 As the 737 turned to line up with the runway approach heading, in the vicinity of the waypoint YS004, its altimeter indicated 2,240ft but a temperature correction meant the aircraft was flying at 1,960ft.
The aircraft's crew operating manual states that the size of the error decreases as the aircraft descends, from a discrepancy of 180ft at 1,300ft to one of 30ft at 200ft, for a temperature of minus 20°C.
But the 737-500, unlike some more modern types, does not provide an automatic altitude correction through the flight-management system.
"Judging by the reports of the crew and the flight profile, temperature corrections…were not entered manually by the crew," says the inquiry.
As a result the crew received indications that the aircraft was following the correct glidepath when its approach angle, about 2.6°, was actually shallower.
The inquiry believes the situation was exacerbated by visual illusions as the crew disengaged the autopilot and switched to manual control. Although the first officer twice mentioned that the jet was below the glidepath, it struck the snow bank and landed hard, suffering a collapse of its damaged landing-gear.
None of the 94 passengers and six crew members was injured.
Investigators point out that only one flight-management computer was fitted to the 737 involved (VQ-BPS) and that the aircraft had not received clearance from the federal aviation regulator Rosaviatsia to operate the area navigation approach.