Canadian operator Summit Air Charters has modified icing procedures after an incident in which both engines on a Dornier 228 flamed out just after take-off on a service to Yellowknife.
The turboprop had been departing the remote Cahcho Kue in the Northwest Territories on 19 January, according to a Transport Canada bulletin.
It states that the aircraft, with six passengers and two crew members, had arrived from Summit's Yellowknife base with the anti-ice for the engine inlet active.
The aircraft stayed on the ground for 10-15min, parked into wind, while it was unloaded and reloaded. Wind speeds were around 25kt, gusting to 30kt, with blowing snow.
Although the aircraft taxied to the runway, it returned to the ramp – again being parked into wind – because the captain did not feel runway visibility was sufficient. The 228 taxied out again after 15min, following the arrival of another aircraft whose crew gave a visibility update.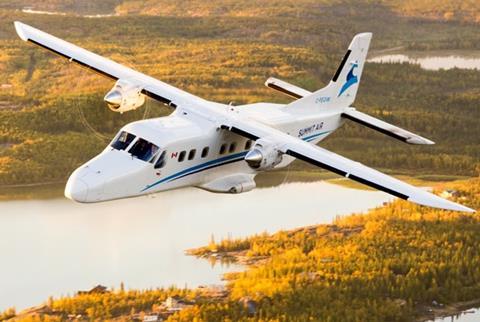 Transport Canada says the aircraft took off with the bleed air system on, but the propeller and engine inlet anti-ice systems off, and the engine ignition off.
It says the crew set the throttle to climb power at 400ft and the anti-ice systems for the propeller and engine inlet were switched on, because the aircraft was expected to enter cloud at 700ft.
As the 228 reached 1,000ft and started to turn for Yellowknife, both of its Honeywell Garrett TPE331 engines flamed out.
"The captain cycled the power levers back and forth, and was about to feather the propellers in preparation to glide back to the field, when he noticed that the engines still had temperature and oil pressure," says Transport Canada.
"He switched the manual ignition on and both engines relit. With engines parameters stabilised the crew elected to proceed to the destination."
The aircraft subsequently arrived at Yellowknife without further incident.
Both engines were examined for damage but none was discovered. All the aircraft's systems were checked and found to be operational, and it was returned to service after an engine check run.
Summit Air Charters has updated its icing procedures and checklists for the type in relation to application of propeller and engine inlet heat and the activation of ignitors, following consultation with the aircraft and engine manufacturers.
Transport Canada identifies the aircraft involved as C-GSAX, which was originally delivered to Midway Commuter in 1988. Summit Air Charters' mixed fleet includes five 228, and the airline also uses types including ATR 72s and BAE Systems Avro RJs.