Romanian investigators have disclosed that the Boeing 767-300ER which suffered a landing-gear collapse at Bucharest Baneasa airport did not touch down abnormally before the accident.
It had been inbound from Kabul on 28 August, and the ILS approach to runway 07 was stable, with checklists and call-outs performed as normal, says investigation and analysis authority AIAS.
Landing occurred in the touchdown zone, with an impact of 1.6g – which the inquiry says was "normal positive contact" with the 3,100m runway. Meteorological conditions and visibility were good, with a slight headwind.
"Shortly after the aircraft's contact with the runway, the left-hand main landing-gear assembly failed," the inquiry states.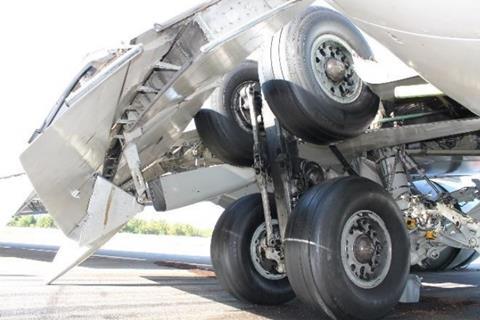 The Omni Air International 767 continued travelling on its left-hand General Electric CF6 engine and the forward wheels of the collapsed left main gear.
After the failure the crew received a 'left gear unsafe' alert and a warning of fire in the left engine. The crew stopped the engine and activated its fire-extinguishing system.
Once the aircraft came to a halt – just over 2,540m from the threshold, with its nose-gear off the ground – the captain ordered an evacuation through the right-hand exit slides.
Forty-nine passengers and 15 crew members, including four pilots, had been on board. None of the occupants was seriously injured.
Two emergency vehicles discharged water and foam to cool the engine and undercarriage and act on hydraulic fluid.
The first officer, who was flying, had 718h on type out of nearly 8,840h in total, while the captain had over 17,850h with more than 5,460h on type.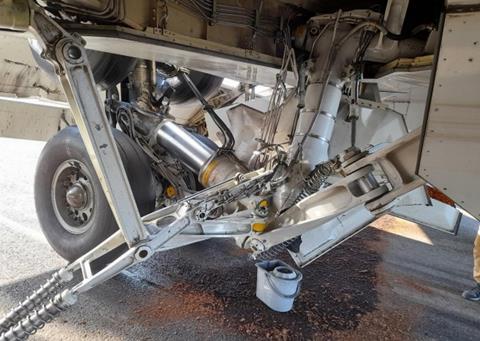 AIAS says the airframe had undertaken 14,811 cycles and accumulated 71,418h. Along with the undercarriage, the aircraft suffered damage to the engine nacelle, left flaps, and perforation of the fuselage.
The left- and right-hand main gears had respectively logged 9,880 and 9,965 cycles since overhaul.
Investigators have transferred the landing-gear assembly to a facility for examination, and certain components will undergo metallurgical analysis.