Colombian investigators are probing an incident in which an Ultra Air Airbus A320 crew had to respond to a terrain alert during descent to Cali.
The twinjet had been arriving after a flight from San Andres on 28 September, according to information relayed to French investigation authority BEA.
It had been approaching on the ASIKO 1C area navigation procedure, which would normally involve flying through the waypoint USEVU west of the airport.
But the crew was cleared to fly direct to another waypoint, designated CL807, south-west of the airport – a flightpath which would have taken the aircraft further south and closer to a region of higher terrain.
BEA, citing its Colombian counterpart, says the crew received a ground-proximity warning at 9,800ft altitude.
It adds that the crew "immediately" executed an evasive manoeuvre with the sidestick and go-around thrust, climbing to 12,000ft.
Preliminary flight data, it says, shows the aircraft closed to 1,570ft radio altitude of the terrain.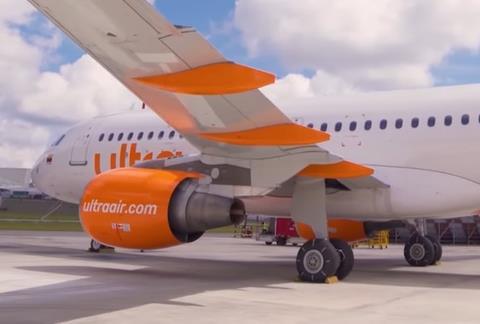 It subsequently descended to intercept the ILS at 6,000ft and landed without further incident. None of the occupants was injured.
Ultra Air is a relatively new Colombian carrier, which commenced services early this year, and operates a fleet of five A320s.
BEA identifies the airframe involved as HK-5413, a CFM International CFM56-powered aircraft originally delivered to Brazilian carrier TAM in 2007.