US investigators believe prolonged absence of formal training and certification for a fan-blade inspection technique resulted in a flawed blade being returned to service and subsequently fracturing on a United Airlines Boeing 777-200.
The fracture in the right-hand Pratt & Whitney PW4000 fan blade, during cruise at 36,000ft on 13 February 2018, led to the loss of most of the inlet duct and all of the left and right fan cowls.
It also resulted in debris – believed to be from a blade – puncturing the right-hand side of the fuselage, just below the window line.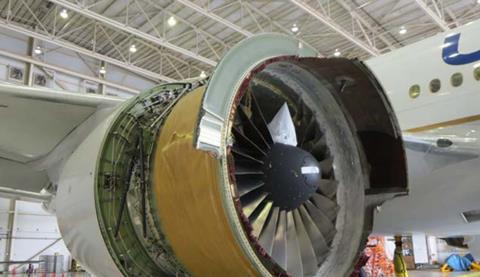 National Transportation Safety Board investigators found that Pratt & Whitney developed a new inspection process, known as thermal acoustic imaging, around 2005.
This process was designed to inspect the interior surfaces of the PW4000 fan blades, and detect cracking in the hollow core, using sound energy to generate friction across any discontinuities which can then be picked up by thermal sensors.
Pratt & Whitney classified the process as 'new and emerging technology', in line with industry practice for newly-introduced non-destructive inspection methods. This meant it did not need to develop a formal initial and recurrent training programme.
But the inquiry found that – even after 13 years – the manufacturer was using the same classification for the technique, despite having inspected over 9,000 blades, and did not have a defined training and certification regime.
Two shift inspectors, including the one who last inspected the blade, told the inquiry that their training on the technique amounted to 40h on-the-job training, whereas certification for eddy current and ultrasonic inspection involved extensive classroom training and up to 1,600h of practical experience.
"At one point [Pratt & Whitney] did provide training on [the technique]," says the inquiry. "However, neither of the two inspectors were permitted to attend the training so that they could work to clear out a backlog of blades in the shop."
The inspector who worked on the blade also claimed that there was no feedback from engineers about whether any blade rejections were valid or false.
Investigators determined that thermal acoustic imaging inspections of the United 777 blade in March 2010 and in July 2015 revealed indications in the same location as the subsequent low-cycle fatigue crack.
This finding, after the incident, spurred Pratt & Whitney to order a review of over 9,600 previously-inspected blades. Pratt & Whitney also reported that they had developed a curriculum for initial and recurrent training on the inspection technique following the event.
None of the 378 occupants of the aircraft, which was nearing its destination, Honolulu, at the time, was injured.