Operators of Bell 505 helicopters are being ordered urgently to inspect collective sticks on the type for cracks, after an incident in which the assembly fractured on an aircraft during pre-flight checks.
Collective sticks are mounted to the left of each pilot's seat and control the pitch of the helicopter's twin main rotor blades to generate lift.
Transport Canada has issued an emergency directive mandating a visual check on the stick as well as an inspection using a fluorescent penetrant to detect possible cracking, in line with a Bell service bulletin.
These inspections must be conducted before any further flights with the type, and the stick replaced if any problems are found.
"The exact cause of the failure is still under investigation," says the regulator, referring to the incident which triggered the action.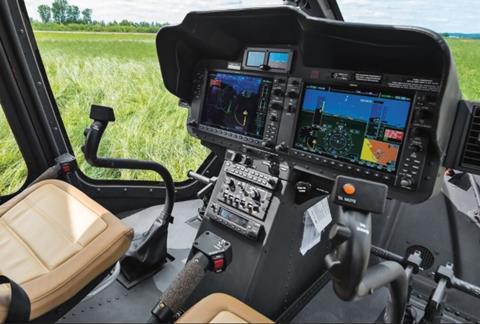 The stick and grip assembly fractured above the cabin floor at a junction with the collective jackshaft, it adds, before engine-start as the pilot was checking flight controls for travel.
Transport Canada says there is a "potential for similar failure" on other 505s. It says the directive covers models of the helicopter from serial number 65011 upwards.
Known as the Jet Ranger X, the five-seat helicopter was unveiled in 2013. It underwent a rapid development, with a 20-month span from concept to first flight, says the manufacturer.
Transport Canada certified the helicopter in December 2016, followed by the US FAA in June 2017 and European Union Aviation Safety Agency in November 2017.