The US Department of Justice is urging a federal judge to prohibit Boeing's former 737 Max technical pilot from presenting evidence suggesting he is being made a "scapegoat" for two crashes.
The former pilot, Mark Forkner, is on trial in US federal court over allegations that he misled the Federal Aviation Administration and two Boeing customers about the 737 Max's Maneuvering Characteristics Augmentation System (MCAS).
On 13 December, Forkner's attorneys presented evidence that, in October, an FAA official told the US government that Forkner was being made a "scapegoat" for two 737 Max crashes and should "not be charged".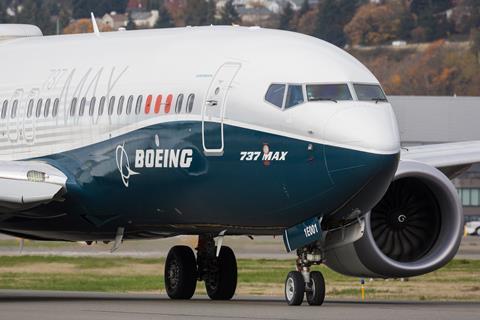 That FAA staffer and two others later created a PowerPoint presentation outlining their belief that the DoJ was pursuing a "false narrative".
Forkner's team said the FAA refused to allow it to interview the officials. Its 13 December filing requests a court order prohibiting the agency from interfering.
But the DoJ is pushing back, asking Judge Reed O'Connor to block Forkner's attorneys from soliciting testimony or presenting evidence that suggests Forkner is a scapegoat.
In a 17 December court filing, the DOJ argues it has not indicted Forkner on charges related to the two Max accidents. Those include the October 2018 crash of a Lion 737 Max 8 and the March 2019 crash of an Ethiopian Airlines Max 8 in which a combined 346 people were killed.
Rather, the US government says, its case only alleges that Forkner deceived the FAA's Aircraft Evaluation Group (AEG) about the operation of MCAS – and only for purposes related to pilot training. The FAA's AEG office sets pilot-training standards.
The indictment centres on Forkner's "deceit of the FAA AEG about MCAS for the purposes of… pilot-training evaluation for US-based airlines flying the 737 Max", the DOJ says.
"The indictment does not allege that the defendant caused either crash, nor will the United States argue or even suggest as much at trial," it adds.
Forkner's has pleaded not guilty to charges of wire fraud related to allegations that he misled the FAA and two US-based 737 Max customers.
His trial is scheduled to start on 7 February 2022.
Investigators have attributed both Max crashes partly to system errors that caused MCAS to pitch the jets' noses down.