Preliminary analysis by Colombian investigators has detailed how rapidly-changing weather conditions at diversion airports preceded the low-fuel emergency involving a Viva Air Airbus A320neo.
The aircraft had departed Cali on 17 October, bound for Riohacha – a service expected to take 1h 46min – with 6,800kg of fuel on board. This fuel load was in line with the requirements established by international standards, and in the carrier's operations manual.
Colombia's Direccion Tecnica de Investigacion de Accidentes states that Rionegro airport, as well as airports on the Caribbean coast – Barranquilla, Cartagena and Santa Marta – were selected as alternates.
While weather reports did not show any significant meteorological conditions at the destination and alternates, forecasts indicated a probable deterioration on the Caribbean coast which would need monitoring.
Weather conditions en route were "optimal", says the inquiry. During descent preparations the crew found conditions at Riohacha and Rionegro were good, but those at the three coastal airports were unfavourable with forecasts of storms, rain and low cloud.
The forecast, the inquiry notes, did not include the destination, Riohacha, because aeronautical services in Colombia did not issue them for this airport.
Only after the A320neo had commenced its descent and was passing 19,000ft did the crew receive notification that Riohacha was closed due to a storm.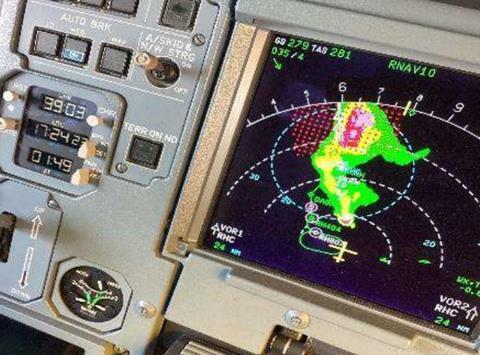 The crew requested to hold at 18,000ft and calculated that they could hold for 22min while deciding whether to proceed to Rionegro instead.
According to the captain's testimony, the crew evaluated a combination of documentation, weather radar images, and visual observations from the cockpit, concluding that weather at Barranquilla and Cartagena was deteriorating.
The inquiry says the pilots also ruled out Santa Marta, not only because it was close to the other coastal airports – and potentially faced similar weather – but also because it presented risks from having a narrow 1,700m runway with certain landing restrictions.
Investigators found that the decision-making process was affected by "intermittent" communications over the ACARS system between the crew and the airline operations centre, because messages were being held up and not delivered in a timely manner.
With fuel quantity at 3,200kg – close to minimum diversion level of 3,077kg – and uncertainty as to whether Riohacha would become available soon enough, the crew ultimately opted to divert to Rionegro via Valledupar.
Around 47min after commencing the diversion the aircraft, descending through 25,000ft, was cleared to 16,000ft and to proceed to a waypoint in the vicinity of Rionegro airport.
But heavy rain was already present, the runway was wet, traffic was building up, and aircraft landing at Rionegro were experiencing problems – one Airbus A320 crew reported an "overrun" while landing on runway 19.
Although the controller was under an increased workload, with congested radio frequencies, the inquiry says aircraft were being place in holding stacks in a "safe, organised and expeditious" manner.
But the absence of an estimated arrival time for the diverted A320neo, which was holding at 15,000ft and waiting in the vicinity of the runway 01 approach, meant the crew – which had advised the controller that they were "quite restricted" on fuel – had to assess options under pressure.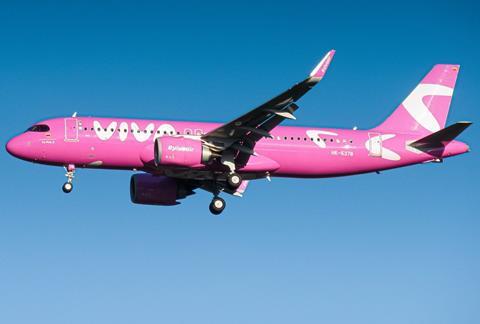 Analysis of weather conditions at other airports led the crew to consider diverting to Matecana or Monteria airport, although the aircraft's flight computers showed that, in either case, they would arrive with just 100kg of fuel.
The inquiry says a flight attempting to depart Rionegro was forced to shut down its engines and hold as a result of heavy hail, and aircraft waiting to land were still unable to obtain estimates for commencing approaches, when air traffic control told all aircraft that the airport was closed, prompting inbound flights to start requesting alternates.
About 20min after reaching Rionegro, the crew declared a fuel emergency and requested to proceed to Monteria, setting the transponder to the emergency squawk code 7700.
According to the inquiry, published on 17 November, the crew maintained a "calm, professional and assertive attitude" in their communications with air traffic control despite the circumstances.
The captain's testimony states that the flight-management system indicated the twinjet would arrive with 400kg of fuel.
After touchdown on runway 14 at Monteria – having flown for 3h 40min – the aircraft (HK-5378) was found to have landed with just 282kg of fuel. None of the 178 passengers and six crew members was injured.
In a preliminary recommendation, the inquiry says the air navigation directorate should look at the technical requirements necessary to allow real-time weather visualisation on air traffic control radar screens, in order to provide up-to-date information to pilots.