Russian investigators are opening a probe into the crash of an Antonov An-26 while it attempted to land at Palana airport in the Kamchatka peninsula.
Wreckage from the twin-engined aircraft has been located on the coast, including parts of the fuselage on the shoreline and fragments in the water.
Kamchatka regional governor Vladimir Solodov says visibility at the time was "poor" and suggests the accident occurred during the landing approach or a go-around.
"Specialists are being deployed to survey the site," he adds. A government commission is to be set up to establish the cause of the crash.
Russia's Interstate Aviation Committee, which will oversee the probe, has identified the airframe as RA-26085, an An-26B-100 variant.
Search personnel had been hunting for the An-26 after it disappeared while flying from Petropavlovsk-Kamchatsky to the city of Palana on 6 July.
Operated by Kamchatka Aviation Enterprise, the turboprop departed at 12:57 local time and was scheduled to arrive at Palana at 15:05, according to the regional government.
"The aircraft did not arrive at the appointed time," it adds.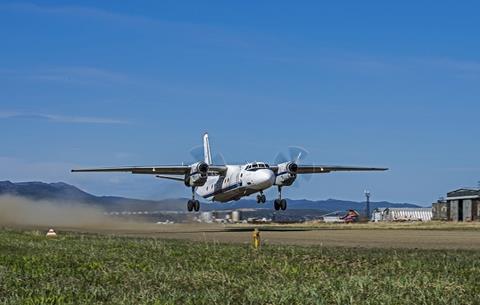 Twenty-eight occupants were on board, including 22 passengers and six crew members. The Palana city administration has established an information hotline for relatives to provide updates.
Kamchatka Aviation Enterprise has five An-26s, operating on remote routes within the territory.
The regional government, citing information from the airline, says communication with the aircraft, operating flight 251, was lost immediately before manoeuvring for the landing approach, about 9km from Palana.
Russia's emergency situations ministry says the search had involved vessels in the waters of the Shelikhov Gulf to the west of Palana. It had deployed a Mil Mi-8 helicopter to Palana carrying search, rescue, medical and firefighting personnel.
Kamchatka's regional transport ministry says the An-26 was manufactured in 1982 and had a valid airworthiness certificate.