Despite slower recovery in the Asia-Pacific region from the coronavirus crisis, Thales remains confident of opportunities in the region.
Yannick Assouad, executive vice-president for avionics at the French company, says its avionics MRO activity in the region is only at half of pre-pandemic levels. Work in Europe and the Americas has returned faster, she notes.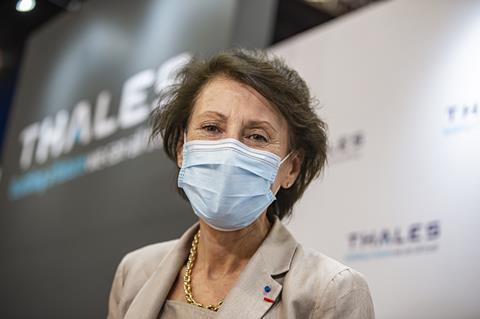 Still, she sees room for optimism: "So it seems like it is coming back up, and we will have opportunities [again] in Asia and for the MRO business," she adds.
The pandemic has presented an opportunity for Thales, which counts in-flight entertainment among its wide-ranging aerospace portfolio.
Assouad says that as air transport gets back on track, passengers will "want to travel seamlessly without touching anything".
"So clearly we are focusing our IFE development on touchless features. That could go as far as being connected [to the IFE system] while at home before you start your journey," she says. Other features include the ability to shop in flight – or order meals on board – from a mobile phone.
"These kind of ideas were brought about, somehow, by the Covid-19 crisis. We would not have not launched it as fast without this," adds Assouad.
She also sees avionics playing a key role in advancing the industry's sustainability goals.
Assaoud oversaw the development of Thales' PureFlyt, a flight management system that "optimises aircraft trajectory" to minimise fuel consumption and noise pollution. Thales says the system can calculate end-to-end trajectory – including horizontal and vertical flight profiles – more accurately than competing systems.
Avionics, through features such as an emissions counter, can also help pilots better plan flightpaths, for instance by avoiding headwinds through flying at the optimum altitude.