Singapore Airlines has signed an order for 22 additional GE9X engines, which will power its fleet of Boeing 777-9s.
The contract, announced at the Singapore Airshow, also includes a long-term engine services contract, and adds to an initial order for 40 GE9Xs first announced in 2017.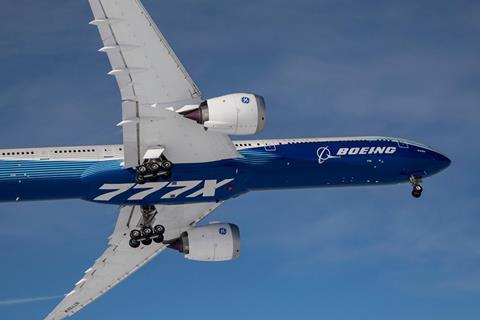 It is valued at $2.8 billion at list price, states GE Aviation.
SIA has 31 777-9 aircraft on order, and will be the first in the Asia-Pacific region to operate the type. There are also two other Asian operators with orders for the 777X: Cathay Pacific of Hong Kong, as well as All Nippon Airways in Japan.
Lau Hwa Peng, SIA's senior vice president of engineering says: "The cutting edge technologies that have gone into the Boeing 777-9 and the GE9X engines will help SIA to increase our operating efficiencies, lower our fuel burn, and materially reduce our carbon emissions. This will reinforce SIA's position as a leading global airline, and enable us to capture future growth opportunities."