Air Nostrum is seeking €103 million ($124 million) of government financial support due to the impact of the pandemic on its operations.
The Spanish carrier says it made an approach on 16 April to state-owned holding company SEPI to take advantage of the country's solvency support fund for strategic businesses. It says it intends to repay the loan over seven years.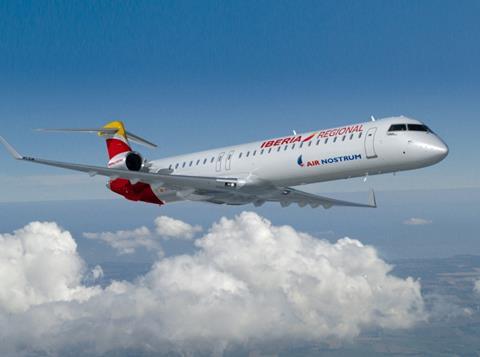 Valencia-based Air Nostrum says it needs the financing to "maintain connectivity and protect employment". It adds that the delayed economic recovery due to the length of the pandemic has led the company to claim the temporary financial support.
Noting six consecutive, previous years of profit, the Iberia franchise carrier says it incurred a €129 million loss in 2020 as a result of the Covid-19 pandemic.
Since the beginning of the coronavirus crisis and "drastic reduction" in air traffic demand, the airline has maintained a policy of "cash preservation and expenditure restraint", it says. It has also reached agreements with aircraft lessors, and in 2020 drew on credit lines from Spain's Instituto de Credito Oficial.
Air Nostrum's workforce has been furloughed for over a year.
From January to March, the airline says it has topped the list of companies with the most operations across Spanish airport group AENA's network.
It has resumed 62% of the routes it offered in April 2020 and plans to raise this to 87% of its routes from two years ago by the middle of the summer.s