American Airlines posted a net loss of $2.1 billion during a devastating second quarter as the coronavirus brought air travel and the global economy to a near-standstill.
The Oneworld carrier's net loss for the three months ending 30 June 2020 stood is even wider, at $3.4 billion, when special items are excluded. Notably that includes $1.8 billion of payroll support programme financial assistance during the quarter.
The loss is driven by an 86% tumbling in revenues for the second quarter to $1.6 billion. Revenues stood at close to $12 billion for the same quarter a year ago.
"This was one of the most challenging quarters in American's history," chief executive Doug Parker says on the company's quarterly analyst call. "Covid-19 and the resulting shutdown of the US economy have caused severe disruptions to global demand for air travel."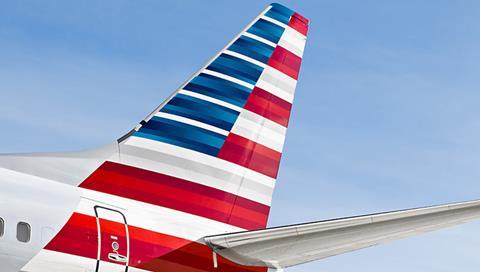 Cash burn fell to about a third of what it was when the pandemic began to affect the US in March. At the end of June, American says it was only putting out $30 million per day. The quarter's average was $55 million per day.
Fleet retirements, flexible network schedules as well as employees taking voluntary leave and early exit offers helped the airline cut its costs, and reduce its liquidity bleed.
But the coronavirus-prompted disruptions will be with the industry for the foreseeable future, American's executives say.
"In short, the crisis continues," Parker says.
When asked about his three-year vision for the company, he responds: "Getting through this crisis and getting this airline back to where we are generating cash instead of talking about burning cash".
While May and June passenger demand was "encouraging" after an historic load factor low in April of 15%, the airline says customer demand has "weakened somewhat" during July as the coronavirus once again began to tear through more than half of all US states.
Summer vacationers had optimistically booked journeys after sheltering-in-place for numerous weeks earlier in the year. However, as the case counts across the southern sun belt rise, many have once again cancelled their plans.
In response to the spike in Covid-19 cases, the metropolitan areas around New York City and Chicago have imposed new strict 14-day quarantine orders on arriving passengers, further dampening customer willingness to travel.
For the third quarter, American expects capacity to be 60% lower than it was during the same period in 2019.
The traditional holiday travel season ends around the first week of September, after the US Labour Day holiday. Chief revenue officer Vasu Raja says on the call that in a normal year, 40% of the company's post-Labour Day revenue comes from business travel. But this year, that revenue won't likely materialize since companies continue to be reluctant to send their employees to in-person meetings when videoconferencing has proven a viable alternative.
"It's difficult to think that [reaching the 40% revenue goal] will be the case," he says. "In the face of uncertain demand, the airline has to evolve."
OVERSTAFFED BY 20,000
The carrier says that going into the later part of 2020, it will likely have 20,000 workers too many for the size and reach that it needs to be to mange through the dearth of demand. So far, 41,000 members of staff have chosen temporary leave, reduced work schedules or permanent exit packages. Prior to the crisis, the airline had had more than 130,000 employees.
Earlier this month, a day after American notified some 25,000 employees that their jobs were in danger come autumn, it announced a "strategic partnership" with low-cost carrier JetBlue Airways. Under the pact, the two airlines will operate codeshare flights and reciprocal frequent flyer benefits. They say that joining forces will help them through the downturn.
The airline was bound by constraints on involuntary furloughs after taking $5.8 billion of government aid provided by the CARES act. That stipulation ends on 30 September, leaving the company and the industry with the prospect of mass layoffs in the fourth quarter. American says that it supports its unions' efforts in lobbying the US govenrment to extend the payroll support programme and associated furlogh protection through the end of March 2021.
American and some of its US peers like United Airlines and Southwest Airlines on 22 July tightened their "no mask, no service" policies for not only aircraft, but also other areas in which passengers may interact with each other and staff, such as baggage claims, lounges, and public spaces in airports.
The airlines said they will no longer transport mask-less passengers, without exception, in order to protect customers and crews from catching the highly-contagious virus in transit.
American says it is still planning on taking delivery of 17 Boeing 737 Max aircraft this year once the type is ungrounded. Thirteen of those have been built already, with four more on order, and executives say all 17 will be delivered this year or in early 2021. The airline plans to take all of the Max it has ordered, "over time", says chief financial officer Derek Kerr.
According to Cirium fleets data, American currently has 24 in storage, with 76 more on order.