Korean Air's acquisition of rival Asiana Airlines is "proceeding smoothly", says the airline, as it doubles down on efforts to secure regulatory approvals in key markets such the USA and China.
In a statement on 23 May, the Seoul-based carrier, which acknowledges that the process is slower than expected, says it hopes to get the green light from anti-trust regulators "as soon as possible", and that it is "mobilising all available resources" to do so.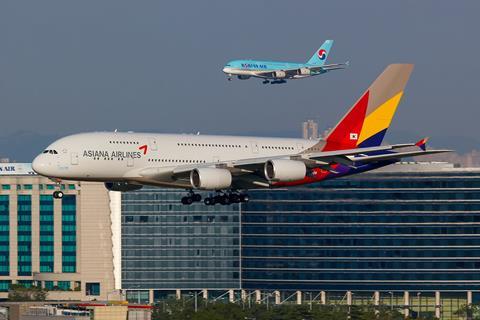 The carrier also provided an update into the progress of applications in six key jurisdictions: the USA, UK, EU, China, Japan, as well as Australia.
With the USA, Korean Air says it is currently in a second stage of reviews with competition regulators there, following the submission of its merger report in March 2021. The carrier adds: "[Given] the recently strengthened stance of the US competition authority, we are actively responding to the review … as we believe that it will be advantageous to obtain approval quickly by submitting [fresh data for a second review] and presenting the new airline at the same time."
In the EU, Korean Air notes that it is in a pre-consultation stage with regulators, and that it has already submitted a number of key documents so that the official review, which is due to take place soon, "can be sped up".
In China, the carrier discloses that it has had to re-apply for a review in January this year, after an earlier application lapsed. China's regulations state that mergers need to be approved within 270 days of application, failing which the application would have lapsed.
Regulators in Japan, Australia and the UK are all reviewing the merger application, states Korean Air.
The carrier adds that regulators in the USA, UK, EU and Australia are asking it to ensure that there will be sufficient competition on the routes it intends to operate on, following the merger.
To this end, Korean Air states that it has been "actively persuading" operators in these regions to fly the routes that it would have a significant market share in.
Korean Air first announced plans to acquire Asiana in November 2020, as the coronavirus pandemic turned the country's aviation sector on its head.
It has already won approvals from competition authorities in Turkey, Thailand, Taiwan, Vietnam, Philippines, Malaysia, Singapore, as well as South Korea.
In its latest statement, Korean Air reiterated the advantage of merging the airlines into one single brand, stating that it is "the only alternative" to "normalise" South Korea's aviation sector. It also touts advantages such as job creation, as well as enhancing passenger travel experiences.
"Although we are proceeding slowly, we believe that [Korean Air] is still producing positive results, despite the difficult situation of … global [mergers and acquisitions]. In the future, Korean Air will do its best to actively cooperate with competition authorities in each country… [We] will firmly push forward with the acquisition and integration of Asiana Airlines," it adds.