Demand for leisure travel and a shift in working behaviour pushed Brazilian airline Azul's third-quarter revenue to a new record, yet the company still lost R$1.65 billion ($308 million) in the period.
Now, the Sao Paulo-headquartered airline is gearing up for the busy Southern Hemisphere summer travel season.
The carrier said on 11 November that its operating revenue during the three months ending on 30 September reached an all-time record for the second consecutive quarter, at R$4.4 billion. That is 61% more than the R$2.7 billion the company posted in the same quarter last year and 44% more than in the same three months during pre-pandemic 2019.
The third quarter was the fourth consecutive three-month period in which Azul's revenue exceeded pre-pandemic levels, the airline says. It's third-quarter capacity was 6.5% higher than last year, and load factor reached 82%.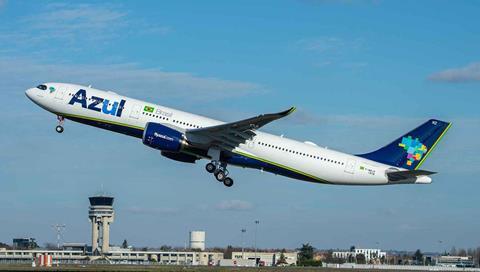 "This performance was a direct result of the strong demand environment, which we expect to continue given the positive trends for economic activity and employment in Brazil," says chief executive John Rodgerson. "Brazilians seem to be benefiting from more flexible work arrangements, enabling a higher number of leisure trips."
Leisure demand has been higher than 2019 levels for 14 consecutive months, Azul adds.
The airline's costs rose 54% to R$4 billion during the period, largely due to increasing jet fuel expenses. The company paid an average of R$6.05 per litre of fuel during the third quarter, more than double the amount in 2019. The price of fuel is not expected to fall soon.
That said, Azul's fuel consumption has fallen 7.7% since 2019, as it acquired more fuel-efficient aircraft.
The carrier's operating fleet now stands at 168 aircraft (up from 160 a year ago), including 11 Airbus widebodies, 50 Airbus narrowbodies and 52 Embraer E-Jets, of which nine are next-generation E2s. Azul also has 34 ATR turboprops and 21 Cessna Caravans.
In addition, Azul leases five ATRs to TAP and three E-Jets to Breeze Airways. It is also "in the process" of placing one A330neo and one A350 into service.
Azul's revenue from its cargo unit fell slightly in the third quarter to R$303 million, from R$318 million in the same period in 2021. Still, its third-quarter cargo revenue was more than double that in the third quarter of 2019.
Domestic cargo revenue grew 22% year-on-year. "This was partially offset by the reduction in international cargo capacity, as we redeployed widebody aircraft to international destinations to take advantage of the faster than expected recovery in international travel," Azul says.
With its broad network – Azul claims to be the only carrier on about 80% of its routes – the airline can now guarantee cargo delivery to more than 2,500 cities in "under 48 hours", it adds.
For the fourth quarter, Rodgerson expects "the strong demand trends we saw this quarter to persist, allowing us to overcome fuel-price pressures and continue expanding margins and generating cash".