EasyJet expects to beat current market expectations for full-year profits after narrowing losses in a stronger than expected first quarter of its financial year.
The UK low-cost carrier posted a pre-tax headline loss of £133 million ($164 million) for the three months ending 30 December 2022, an improvement of £80 million over the same period a year before.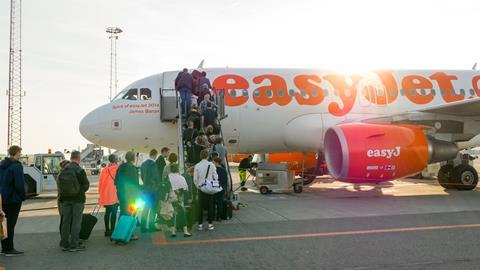 EasyJet's better first quarter performance was driven by a strong yield performance as revenue per seat increased 36% and load factors climbed 10 percentage points over the same quarter the previous year.
It expects the improved revenue per seat performance to persist as strong yields and load factors remain, while its says booking strength is continuing into the second half of its financial covering the key summer travel season.
As a result EasyJet has raised its profit expectations for its financial year. EasyJet chief executive Johan Lundgren says: "We expect to see our winter loss reduce significantly over the first half compared to last year. This will set us firmly on the path to delivering a full year profit, where we anticipate beating the current market expectation."
Current market projections are for EasyJet to post a pre-tax profit of £123 million for the year ending 30 September 2023. That would mark a return to profit after three pandemic-impacted full-year losses.
EasyJet revenues increased 86% in the three months to December 2022 to reach £1.47 billion. That was achieved on first quarter passenger numbers jumping to 17.5 million from 11.9 million, and load factors of 87%.
"We have seen strong and sustained demand for travel over the first quarter, carrying almost 50% more customers compared with last year," says Lundgren. "Many returned to make bookings during the traditional turn of year sale where we filled five aircraft every minute in the peak hours, which culminated in three record-breaking weekends for sales revenue this month."